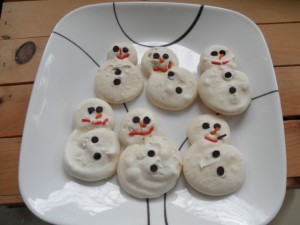 I love to bake. And I love to make candy. Not all the time, of course, because I'm sure it would get old quickly, but I typically make special treats a few times a year. For me, feeding people is my first language, and making desserts is one way of celebrating holidays and special occasions. I enjoy making desserts more than I enjoy eating them, actually, which is one of the first reasons why my husband and I connected. 😉
For most people, the holidays involve celebration and food. As I work with more and more people on a low FODMAP diet, I'm aware how few recipes are out there with holiday options, so I decided to pull together options that are either my own recipes, or ones we've made/enjoyed at Chez Harris. PLEASE NOTE THAT FOR ALL SWEETS, IT'S ALL ABOUT SMALL PORTIONS!
Angel Food Cake: Light, airy, delish. Perfect for a celebration.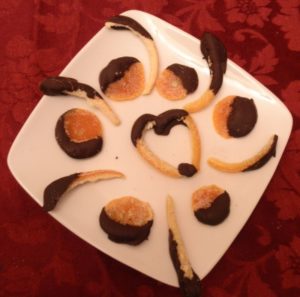 This is a birthday present yearly for a friend–his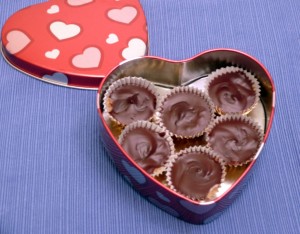 absolute favorite!
 Chocolate bark –super quick. Just use low FODMAP options like almonds, hazelnuts, macadamia nuts, sunflower, pumpkin seeds, ginger, orange peel, etc.
Chocolates: see above! make your own with a mold or buy
Chocolate Banana Mousse Pie–please note, ripe bananas are higher in FODMAP, so small pieces (1/12th pie)  are a must. The recipe works with just-ripe bananas, too.
Chocolate Chip Cookies might not be traditional holiday foods–but once you taste these, you may well change your mind.
Clementines Of course, they're more festive when dipped in chocolate ?
Clementine cake–This is a recipe from Nigella Lawson that we've made more often than I can count. 
Flourless torte-use a dairy free version of nutella My husband's favorite, and very cute as mini-cakes
Fondue, using chocolate and fodmap friendly fruit or cookies
Fruit and whipped cream–Strawberries, raspberries, bluberries…just stick to 1/2 cup of fruit or what you tolerate.
Glazed walnuts:these are so very yummy, quick and easy.
Hot chocolate-MYO using lactose free milk–or hot vanilla!
Jello–this one is just grape juice and gelatin
Macaroons
Marshmallows –As long as you're having a small portion, these work. Generally kids of all ages love these.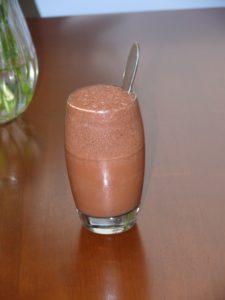 Meringue cookies (see above)
Peanut butter cookies  or a nut free, use sunbutter
Pralines<–this version is dairy free, so it's more FODMAP friendly, but portions still need to be small.
Pumpkin seeds
Roasted chestnuts. Not quite dessert, but an amazingly seasonal yummy snack.
Toffee–it's essentially sugar and butter, so small portions are a must.
Several others have shared low FODMAP dessert lists as well. Here are ones from Patsy Catsos, Kate Scarlata, and Delicious as it looks.
So…enjoy treats. Savor, stick with small portions, and remember, you don't get points back for feeling guilty.