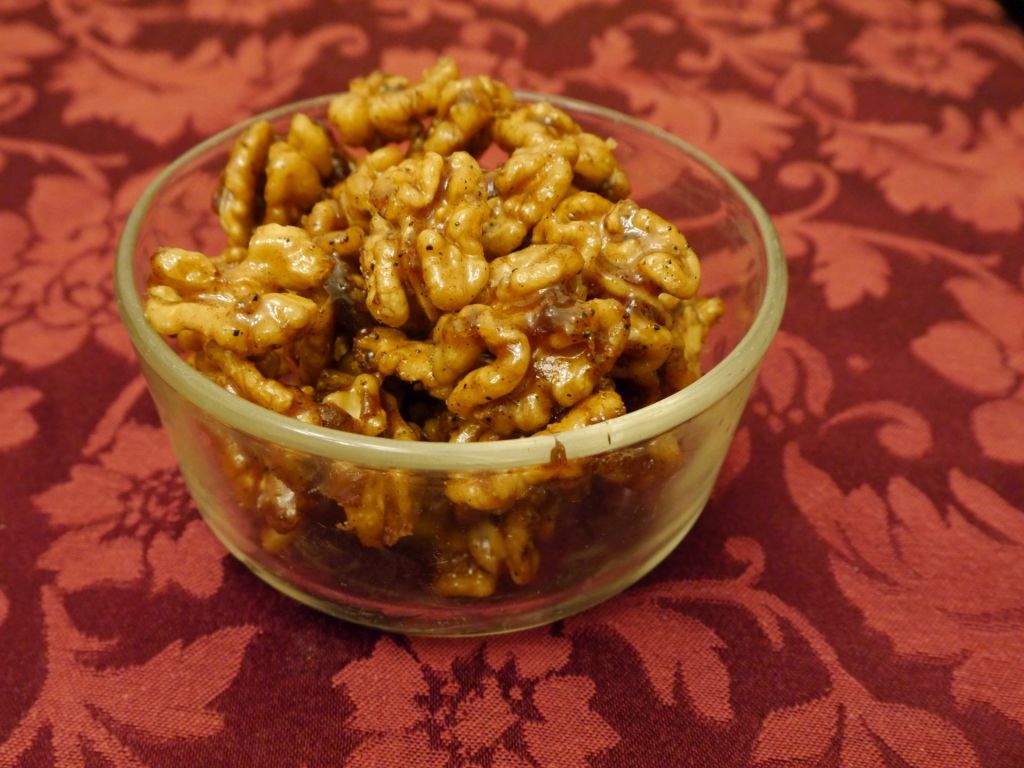 Need a last minute dessert or hostess gift? Here you go!
I absolutely adore this recipe because it's delicious, versatile and I can have a dessert or gift made and on its way in 10 minutes. Sweet, huh?
I love these, and can't count how many times I've made this recipe over the last few years. Everyone has the taste or texture that they adore. I think I'm in love with sweet and sticky (although my nutritionist brain says, hey, the sugar content isn't crazy for a dessert!)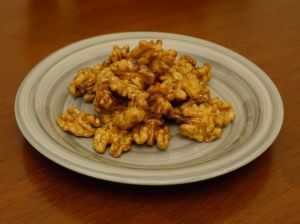 Although I prefer making these with walnuts, pecans, cashews, almonds or mixed nuts work too. And on the off chance that you don't really like sticky, reduce the maple syrup to 1/4 cup and you're good to go–the coating is thin and crisp, and there's still enough sweetness to make it work.
I generally use pumpkin pie spice to give these a little kick, but you can add a pinch of cayenne if you like a little extra heat.
Oh, and of course this is naturally gluten-dairy-egg-corn-soy-grain-refined sweeteners-free, Paleo friendly and vegan. And as long as you stick to a 1/4 cup serving, it should be low FODMAP friendly as well.
Put the walnuts in a skillet over medium high heat. Meanwhile, line a cookie sheet with parchment paper and grab the other ingredients. You'll start to hear the walnuts sizzle, and add in the maple and spices (not the salt). Allow them to cook and bubble, stirring occasionally until the syrup is almost dry, around 3 minutes. Sprinkle with coarse salt, and scoop the walnuts onto the parchment. Quickly spoon the excess maple goodness onto clumps of walnut.
Allow to cool, enjoy or bag as a gift. Keep in a covered container if they last that long.
Looking for more holiday recipes? I have a mega roundup here of naturally gluten-free ones.