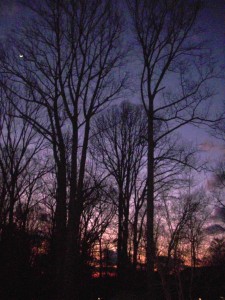 I've been going through transitions at work, and making the difficult decision to drop a (very) low paying HMO plan, and it's caused quite a bit of angst for me. I've always valued taking insurance because I value the providers I see that take insurance, so it just seems a fair trade.
What I've learned is that it's relatively easy to justify change when there are no real alternatives. It's easy(er) to say, I can't do this. I can't afford to take this, I can't stay in business. Way back when I was working for DC Government, I gave myself permission to leave because I physically could not handle staying. I left another position along the way because I reached a point where my body couldn't handle the strain of the commute. I tried for years and it was too draining, and I realized I had to go.
But it's simply not true here. I can keep doing this; I choose not to. I don't want to keep taking this plan because I know what it means to accept the lower rates and make a reasonable salary. It means working and additional 5-10 hours a week. Lower rates mean working evenings, weekends and coming home from a day of work and working some more. It means sacrificing vacations, hobbies, and me-time.
It's funny that it's easier to defend the choices I've made because I "had to" vs a quality-of-life choice, because that somehow sounds selfish or indulgent. Trust me, it's not. There is a virtue in giving freely, and I truly enjoy giving of my time and energy, simply for the joy of it. But staying in a system that doesn't value my time doesn't feel wholesome.
I don't want to do that any longer.
A few months ago, I started to feel like a hypocrite. Talking to clients about work/life balance is goofy when I wasn't practicing what I preach. I realized I've been spending so much time and energy to get healthier, and then spending my health on the hamster-wheel to make a certain salary. That's not a good deal.
I understand that my choice means that clients have fewer options, and quite frankly, there's some sadness and guilt associated with that. It's also an uncomfortable and unfamiliar place, and I know there are people who are unhappy with and judge my choices. That will have to be just what it is.
I love my job, and feel tremendously blessed to have the privilege of doing what I enjoy. And I'm choosing to put some boundaries up that feel a heck of a lot healthier in the interests of better quality of life.
So….wish me luck. 😉