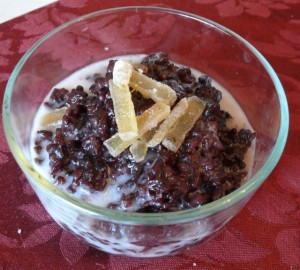 A rice pudding fit for an empress…
As the story goes, forbidden rice was reserved for the emperor. I'm not sure I can blame him for not wanting to share! If you taste it, you'll understand. It's gloriously, indulgently purple, and got a distinctive chew and taste to it.
I've made this pudding for years, but rarely, because it took hours to get good and soft. Then it occurred to me that I could just soak it overnight, and get the same consistency in much less time.
Coconut is what makes this a totally indulgent, creamy treat. There's a lot of debate about coconut, the saturated fat and health, and you can find people on both sides of the issue. If you're counting calories, you can do it with almond hazelnut nut milk and drizzle with coconut milk at the end, and it tastes almost as good. I'm somewhat tempted to try it with chai tea instead of water and see how that goes.
Also, remember to count the cardamom pods when you put them in so that it's easier to remove them afterwards! Cardamom gives delightful flavor, but not so much when you bite into it. Trust me.
2 cups coconut milk, hazelnut or almond milk, divided
1 1/2 cup water
1 cup of Chinese black rice (AKA forbidden rice)
1/4-1/3 cup preferred sweetener: sugar or maple for low FODMAP, or 10 vanilla stevia drops
8-10 cardamom pods
1 stick cinnamon
chopped crystallized ginger for garnish
Soak 1 cup of rice overnight. Rinse and drain (don't worry about getting all the water out). Add 1 1/2 cups of water , 1 1/2 cups coconut milk, the sweetener, cinnamon stick and cardamom pods. Keep at a low simmer for 1 1/2 hours, stirring every 30 min or so. When it's a delightfully soft mush, you're good to go.
Remove spices and serve, drizzling each portion with a tablespoon or so of coconut milk and chopped ginger. Enjoy with a side of mango, pineapple, raspberries, or sorbet.
If you have leftovers, give me a ring! Or freeze it, it does freeze well..
This is my submission to "Go Ahead, Honey, it's GF". November's edition is about foods from childhood, and our lovely host is Noosh of For the love of food. Rice pudding reminds me of my grandpa, although it was nothing like this. However, this pudding is like a big hug to me, and so it seems to fit the theme.