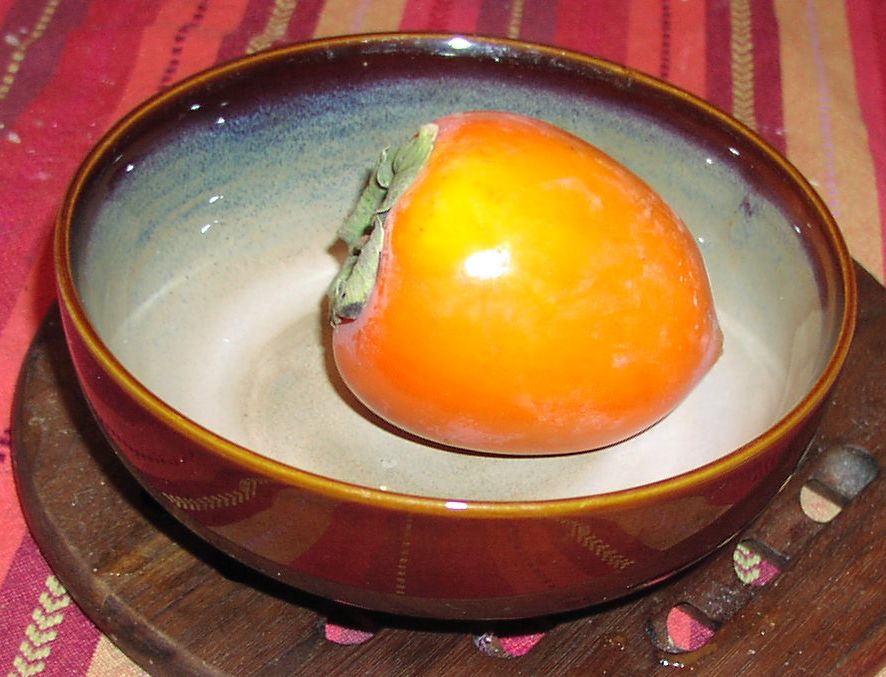 I have been a bit of a slacker in the kitchen lately. I wasn't feeling well, but hopefully I'll be easing my way back into the kitchen this week. I can't believe that it's December already, and I feel spoiled that I was able to spent a few hours out in my garden this weekend cleaning things up!
My camera is broken. Believe it or not, that's what happens when you drop them. Actually, please believe it, you don't really need to try it and see for yourself. It still kind of works, but just sort of. When you turn the camera off, it takes a picture, which is how I got the picture above. Somehow borrowing my husband's is a bit that's a bit of a hard sell–for some reason, he doesn't want me to drop his, too. Hopefully Hanukkah Harry will bring me a new camera, preferably an inexpensive one that bounces. =)
This week's food is persimmons. I used to eat them a lot as a child, but haven't had any in years, so I certainly appreciate Sarah's pick. Regretfully, the one I have doesn't look so great, but it was the best I could find, so fingers crossed!
Monday:
Vegan
Garlick-y quinoa with broccoli
Tuesday:
Quick and easy:
Trout with almonds and roasted peppers
Wednesday:
Pom Chicken with broccoli
Thursday:
Leftovers
Friday:
Beef in a coconut curry sauce
Roasted cauliflower and papadams
Tasty treats:
hazelnut/agave caramels