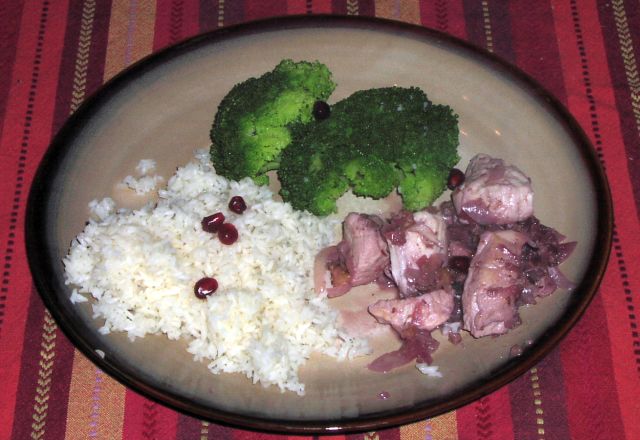 Pomegranates are pretty much perfect.  Heck, they're a lot of effort to peel, but it makes me appreciate them even more!  They're very high in antioxidants and vitamin C, and wonderfully delicious.
The only downside to poms is the amount of mess they make and the amount they stain…everything.  We have pomegranate stains on the walls, the floor, some of my sweaters.  You get the idea! Regretfully, DH does not see this as art.  I'm still working on convincing him.
Since I can't eat citrus, pomegranates are a great way to get a tangy taste.  I used fresh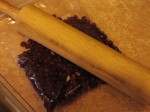 pomegranates, but you can also just use pom juice for this recipe.  I used to juice using a food mill, but realized that a (well sealed) ziplock bag and a rolling pin was easier.  And if you enjoy having poms in the warmer months, the seeds freeze really well!
1 onion, chopped
2 Tablespoons of oil
pinch of salt
2-3 chicken breasts, diced
2/3 cup walnuts, finely chopped or well mashed with a rolling pin
1 tablespoon agave or to taste
1/4 tsp cardamom
1/4 cup pom kernels, reserved
1 1/2 cups pom juice (about 3 poms, with 1/4 cup reserved and not juiced)
1 cup broth
Simmer the juice and broth gently until it is reduced by half. In skillet, saute onions until translucent and set aside. Brown the chicken in the same pan. Add sauteed onions to the chicken, along with reduced juice mixture, spices and walnuts.
Adjust spices as necessary, serve with broccoli and a starch of your choice.
This is my weekly submission to Weekend Herb Blogging, originated by Kalyn's Kitchen, and now hosted by Haalo of Cook almost anything at least once
Our host this month is Scott of Real Epicurean.