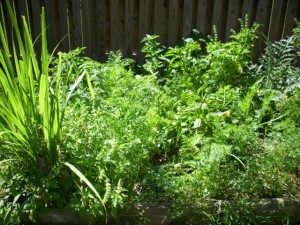 What says Autumn?  Apples, pears, cinnamon, cloves, pumpkins, oh my!  So since we haven't had cinnamon in the rotation for a bit, I thought I'd throw some in.  Many of my recipes do feature cinnamon because DH adores it.  Just a few:
And, of course, I love garam masala, which includes cinnamon as one of its spices for a perfect blend.
Just to wear my dietitian hat for a minute, cinnamon is an especially fabulous spice because it's extremely high in antioxidants, and some studies show that it may help balance blood sugar, too!  Talk about a sweet deal.
I've also put up an Autumn/Halloween newsletter with tips and idea for gluten-free trick-or-treating, and I also did a guest post on nutrition and depression. I also posted a Lentil stew recipe, and made fantastic sweet potato pie that I need to re-make to blog about. What yum!.
Looking at next week, I'll be trying to get things ready for our annual pumpkin carving party in addition to taking things a bit easy–I sprained my ankle, and am in the midst of a few projects, such as this fun  Celiac Disease Video project, which I'm eagerly anticipating.  But seriously, come mid November, I really need to commit to some hard-core vegging out to make up for all these deadlines!
And to all you lovelies…calling new hosts/hostesses! Info here
So onto the meal plan:
Monday:
Malaysian Curry with broccoli (does contain cinnamon)
Tues:
Kalamata hummus and garden-fresh lettuce
Weds:
I have bison and I need to figure out a good recipe, so I need to hunt down a good recipe
Thurs:
Roasted rosemary salmon with roasted cauli. This keeps getting bumped off the menu, so it's time to get serious!
Friday:
Leftovers
To make:
okay, this is party food made in advance, mind you, or there wouldn't be so much sugar overload:
pralines
meringues
our DB challenge
whatever else I can premake!b

Garden brag:
basil. Gobs of basil
a few tomatoes
an obscene quantity of kale
pumpkins (little guys)
And everyone else?
Joyce of Annotated Food joins us with a great menu, including goulash and a chicken dish in creamy tomato sauce, and I can't help wondering if I can liberate if of dairy.
Wendy of Celiacs in the House and her gang has been under the weather, so she's been taking it easy.  And yet she still has a lovely menu plan, with lamb, arepas and more!  She has a bunch of goodies for serving as a gluten-free ambassador.
Renee of Beyond Rice and Tofu has Smokey Mountain Lasagne on the menu, and is looking for a heriloom bean recipe.  I can't wait.  And here's to hoping she posts some garden pics!
Heather of Celiac Family has been having a hectic time, but as usual she's got great food on the menu.  The Mexican Pizza looks delish, and she links to a Banana Coffee Cake that really caught my eye.
Scrumptious of In My Box has a great gluten-free vegan meal plan.  She's helping a friend celebrate his 10th "veginaversary" and pondering making rum balls.  Though everything looks delicious, the Tofu Aloo Golbi looks uber yummy.