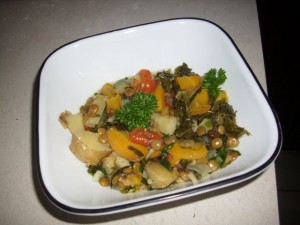 Gardening is such a joy.  I don't always get a lot of food or exercise out of it, per se, but it's so delightful to spy a growing watermelon, a new flower budding, my first artichoke–oh!  my babies.  The butterflies, the birds, the bunnies and the toads all keep me company is such a delightful way.
This year has been such a mix.  It was way too hot, and it coincided with a time I wasn't feeling well so I wasn't getting up early and so, sad to say, my plants got a bit parched.  So I've got great kale, tomatoes and herbs, but some of the tomato plants are looking very unhappy, and none have had a good year.  However, one set of pumpkins are coming along, so fingers crossed.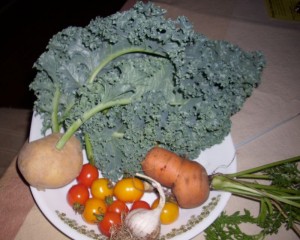 Oh yeah…I mentioned a lentil stew.  I had a cavity filled and my poor mouth hurt.  As I stared at my garden harvest, my brain went to soft foods and I immediately opted for a lentil stew.  And it was so glorious that almost everything (the kale, the tomatoes, the carrots, the garlic, the parsley, and the thyme) was lovingly grown in my garden.
1/2 large onion, coarsely chopped
1 Tablespoon olive oil
3 cloves of garlic, chopped
a big handful kale, blanched, or spinach and skip the blanching
a couple of potatoes
5 cups broth
1 cup dried lentils
2 bay leaves
2 springs thyme or lemon thyme
2 carrots, chopped
a handful of tomatoes, chopped
salt and pepper to taste
1/4 cup chopped fresh parsley
Saute the onions for a few minutes and then saute the garlic a minute more. Add the broth, blanched kale, lentils, bay leaves, thyme, carrots, potatoes and tomatoes. Let simmer until the potato is tender, then add salt and pepper to taste. Stir in the parsley at the end and enjoy.