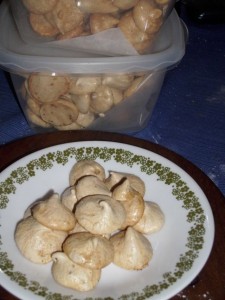 By popular demand…meringue cookies.
Now, for a blogger who avoids eggs and sugar, this may seem like an odd choice. A good friend of DH's is off in Iraq, and me being me, I'm "doing my part" by sending cookies. It's amazing that so many wonderful men and women are overseas, missing friends and family and in incredibly stressful conditions and our everyday lives are so removed from all of that struggle. So regardless of my feelings on the war, I deeply appreciate the people who have given up so much to serve.
Okay, off the soapbox. Meringues seem to keep well for weeks, and there's no chocolate or anything else to melt. Last time we sent pecan brittle with cacoa nibs and next time, I think I'll do biscotti. However, he's over there until at least November, so I need suggestions of foods that are sturdy enough to ship, won't melt, stay good for at least 2 weeks and GF, so I can make them. Please leave comments!!!
I made a variety of batches, from coffee heath to hazelnut with cocoa nibs to some vanilla with various mixins. So think of this more as a blank canvas on which to play and add your own stamp. The only caution is that if you plan to pipe the meringues, you need to mash the heath or it gets stuck in the tips, and you get a gloppy mess (however, I will say they were still devoured)
3 egg whites, removed from the fridge 30 min-1 hr if possible
1/4 tsp cream of tartar
3/4 cup powdered sugar
pinch of salt
1 tsp hazelnut extract, vanilla extract or whatever works for you
1/3 cup heath bar chips, mashed, or nuts or or mini chips
or 2T cocoa nibs
1 Tablespoon espresso powder (optional)
Pre heat oven to 250 (check with an oven thermometer). Line 2 cookie sheets with parchment. DO NOT GREASE, AND DON'T USE A SILPAT. I guarantee it won't turn out well (I made all the mistakes so no one else has to. you're very welcome)
Whip egg whites until soft peaks, then add in the cream of tartar and gradually add in the powdered sugar. Whip until you have still peaks, then add in extracts and mixins. Working quickly, spoon out tablespoons of the batter on prepared sheets, or pipe with a pastry bag for a prettier appearance. Bake for about 2 hours or until dry and hard, rotating sheets halfway.
Allow to cool completely and seal tightly. They keep at least 2 weeks