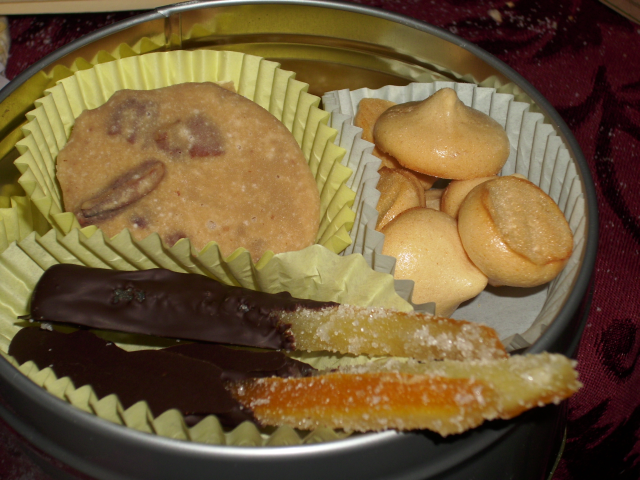 Given the week it is, I thought I holiday theme would be appropriate. And whatever you do (or don't) celebrate, I hope everyone has a wonderful and peaceful holiday season.  And PLEASE PLEASE PLEASE!  I need new hosts, and that means you!
I had a busy week of making holiday treats: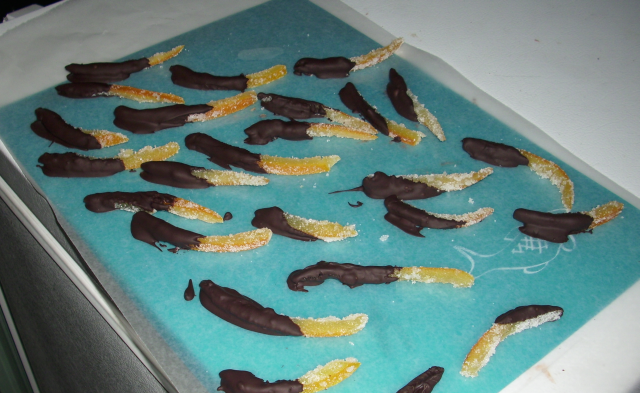 Choc chestnut fudge
pralines (vegan and regular)
Choc covered orange slices
Hazelnut crispy balls
Spiced nuts(I just omitted the pretzels)
Heath (and hazelnut) meringues
rugelach
truffles
If you need inspiration, I have this list of 50+ naturally GF treats, which work beautifully for people who don't want to fuss with specialty ingredients, or need to give relatives a gentle nudge.
and quite honestly, I'm needing a break from making sweets for a few days. I assume I'll need to make more things for the holiday, but right now, I'm good.
So what's your favorite GF treat?
Monday:
Mahi Mahi with pesto and baked carrots

Tuesday:
Chicken with rosemary, onions and Kalamata olives with broccoli
Weds:
Lemony Mint Quinoa with asparagus (I know, I try to eat seasonally, but hey)
Thursday-Saturday:
we will be traveling, so I will be taking along the quinoa, some of Amy's soups, tuna/lettuce/crackers, turkey and celery in chestnut sauce. I will also be trucking along the ingredients for an apple crisp.
And you all?
Kimberley of Gluten Free is Life has an ambitious meal planned, and I love the sound of her Gingerbread cake. She's going to her dad's house, and there will be many GF things there for her! She's got a lot of mixes to keep things easy for Christmas morning.
Rebecca of GFCF Cookbook joins us for the first time. Her big "pot o'chili" sounds perfect for this weather. Do check out her post on "GF" bread in NC that isn't really GF–what a horrible story.
Heather of Celiac Family says she has an easy week planned (I say it still looks ambitious!) including chili and a Christmas buffet. She's got ideas for GF holiday gift giving, too, so check it out!