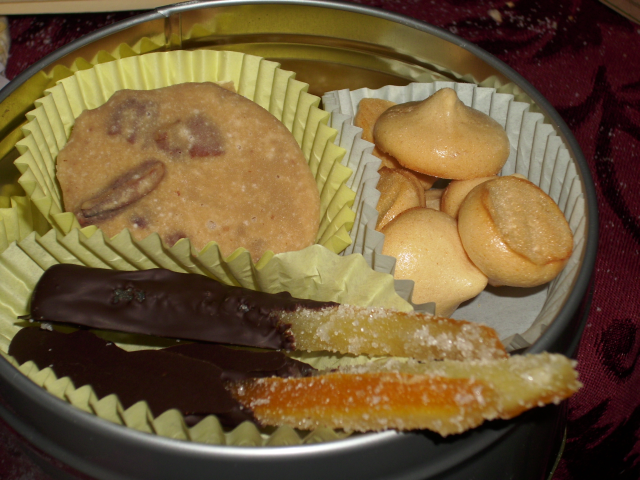 I always intend to pretty much bypass the holiday craziness and stay sane, healthy and happy.   And I've already made way more holiday treats than I meant to–always fun, and I tend to get rolling and always want to try more recipes!  Along the lines of managing the results of excess baking zeal and avoiding the minefield of holiday eating, please check out my guest post over at Gluten-free Homemaker.
Thankfully, there are an abundance of holiday gluten-free treats out there.  So the big question of the day is, what's your holiday can't-live-without treat?  What is the absolute 'gotta have it' at your parties?
We've got quite a few contenders, probably because there are a bunch that we make every year, and different people have their favorites.
Chocolate Covered Candied Orange Peels, which are one of DH's faves (I'll be posting a step-by-step of them tomorrow
Bittersweet Chestnut Fudge (my favorite)
Merinuges, which are the best for mailed treats
Pralines, which are made at least twice annually. This is an amazing recipe that we tweak–this run has some cacao nibs
Chocolate Mint Snowflake Cookies, which have my co-workers' votes
and your top 3, or 5 or so?
As for food, it'll be a little tricky.  We'll be spending the holiday in N Carolina and I won't have easy kitchen access, so I have a frozen stash, including the Sniffle Stew I just posted.
Monday:
Garlicky quinoa with sauteed arugula and turkey
Tuesday:
Roasted salmon with roasted cauli
Weds:
leftovers…
Thurs:
on the road!
Baked goods:
Daring baker challenge
Chestnut fudge
Chai Breakfast Cake
Candied Orange Peels
Heather of Celiac Family loves cookies, too, and has some great pictures of some of her favorites. She also suggests making peppermint divinity tarts (sounds divine!) or even meringue snowmen.