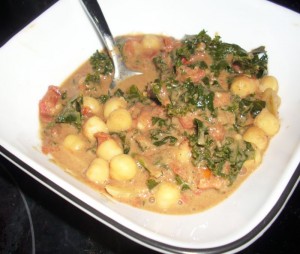 It's that time of year, isn't it! It's gotten crazy cold almost overnight near here, and I'm freezing all the time. The cure for the cold weather is a yummy curry.
Granted, that's not the most appetizing of names, but this IS a super yummy soup–perfect for the cooler weather, and really, really easy to make so it's perfect to whip up when, well, you're getting the sniffles! As a bonus, this hearty vegan stew is made from ingredients I always have on hand in the pantry, so it's quite convenient.
3 cups broth (I like Pacific Brand)
1 can diced tomatoes (I prefer Eden because it's BPA free)
1/2 cup sunbutter, almond butter or PB
1/3 cup diced uncrystallized ginger, or 1 tsp minced ginger
1 generous Tablespoon garam masala (milder) or curry powder (hotter!)
squeeze of lemon
pinch of salt, to taste
1 pound chopped kale or collards
1 can garbanzo beans, drained (Eden foods)
Simmer the broth, tomatoes, sunbutter, ginger, kale and spices on low for 45 min-1 hour (longer is fine, too!) to allow flavors to meld. Stir occasionally. Add drained and rinsed garbanzo beans. Simmer a minute or two more, add salt and pepper as desired, and enjoy!