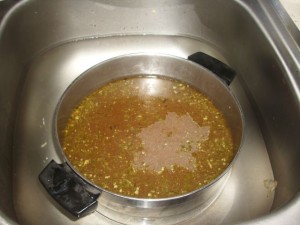 Calling all hosts/hostesses!  If you'd like to host, email me at cheryl (at) eharrishome (dot) com.  Info on hosting is here.
I hope everyone is easing well into the new year and brushing off the holiday food "hangover".  This weekend was dedicated to doing the things I've been putting off–bills, letter, etc.  Not that I finished, mind you, but I got started.  Yay.
I posted for Nicola's Detox January on nutrition before, during and after cancer, so please do check it out and the other fantastic detox posts, too!
The theme for this week is soup.  Soup feels like a warm, soothing, loving hug, and there's very little as wonderful as homemade soup.  I made turkey broth today (pictured above) and it tends to be a whole day deal–start the pot simmering when I wake up, blow it kisses throughout the day, add in veggies a few hours before the end, and cool it down in a waterbath.  And then the next day is skimming off the fat.  But oh, the broth is just so rich and delicious there's nothing else quite like it.
Most of my soup recipes aren't really recipes, but I do have a few I love:
African Inspired Almond Collard Stew (GF, CF, EF, SF, sugar free and vegan)
Asian Style Gingery Soup (GF, CF, EF, SF, vegan and sugar free)
Celeriac and Broccoli Soup (GF, CF, EF, SF, sugar free and vegan)
Red Pepper Soup (GF, CF, EF, SF, sugar free and vegan)
Roasted Tomato and Caramelized onion soup (GF, CF, EF, SF, sugar free and vegan)
Sniffle stew (I tend to mentally classify soups and stews together)
On to the menu planning!  DH is out of town part of the week, and I generally eat mostly vegan in his absence because it's simpler.
Monday:
Garlicky quinoa and broccoli
Tues:
Sniffle stew
Weds:
Red pepper hummus on mixed greens
Thursday:
Coconut curry with kaffir lime leaves
Friday:
Out to dinner at Wildfire for work
Baked yum:
I'm craving cookies. We'll see how this goes.
And everyone else?
Angela of Angela's Kitchen shares my love of soup, too, and she's linked to a bunch of her favorites and is making Turkey Wild Rice this week. She is hosting a Bisquick giveaway, so go check it out! And I wholeheartedly agree with her resounding endorsement of MYO broth. It is so delicious!
Wendy of Celiacs in the House has a tantilizing picture of Rioja Beef Stew. And did you know that today is Bittersweet Chocolate day? Seriously, the wonderful nuggets of knowledge I get in the bloggosphere. I'd hate to miss out on joining in on the celebration!
I missed bean day, too (January 6th.)
Wendy linked to other fun food holidays here.National chocolate cake day is the 27th, just as an FYI.
and where oh where are the fruit and veggie days? How about National Pom day? Clementine day? But I digress.
Scrumptious, of In my CSA Box, talks about budgeting…and I'm sure most of us can relate to that moment of "oh no!". She's got a great menu planned, and her millet and kale salad sounds delish!