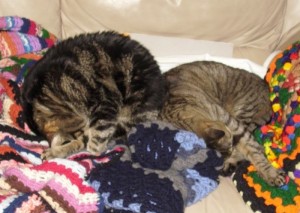 I can't believe how fast the weekend has flown!  And yet, I spent much of the weekend snuggling and relaxing with my favorite furry beasts, so it was time well spent.  I'm not as quite as flexible as they are, though, so I didn't nap in pike position.
My only post last week was on gluten free and healthy foods, which is always a great way to start the New Year.  And Nicola's Detox January is still underway, so if you haven't taken a peek, you'll be delighted!
Our lovely hostess this week is Wendy of Celiacs in the House and her ingredient is winter veggies.  That's a perfect one!  Usually I have something living this time of year, but alas, even my carrots and kale are mostly dead, and only the rosemary is alive and kicking.  There's cilantro, kaffir lime, stevia and curry leaves inside, but not much else going on.
I decided to go with kale for the winter theme, and will be making kale pesto because, seriously, why not?  Ideally, I'll find some way to work in sweet potatoes, too.
Onto the menu!
Monday:
Chicken and broccoli in a red pepper sauce
Tues:
Kalamata hummus on baby greens
Weds:
Sauteed celery with turkey
Thursday:
Quinoa with kale pesto
Friday:
Leftovers
Sweet fun:
I really don't know. Vegan and sugar free Thai Iced Tea with macadamia cream is a must, but I'll probably bake something, too. DH has been scrounging for snacks, poor dude, because I haven't felt much like baking.