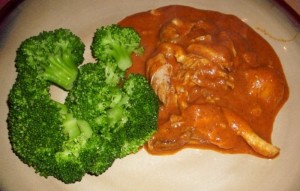 Yahoo!  At long last, I am delighted to get the honor to host Weekend Herb Blogging.  If you're not familiar with WHB, it was originated by Kalyn's Kitchen, and our current hostess is Haalo.  It's a great way to get inspiration for yummy ways to use herbs in your cooking…and an eclectic collection of fruits and veggies, too.
The last few weeks have been a total roller coaster rides, so it was time for a peaceful, relaxing, indulgent meal.  One my DH's absolute favorite things is red pepper sauce, and one of my favorite things is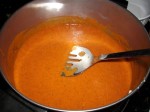 how darn easy it is!  And how delicious, too.  I love that it's so creamy that it tastes like it's a dairy based sauce, and the sweetness is such a treat.  My first post way back when had red pepper chicken, and quite a few people asked for the recipe.  It's worth the wait, I think!
We had an unseasonably warm weekend, so I roped DH into grilling the peppers.  Usually, I just use frozen herb-y peppers from the summer months.  The hardest part is having enough peppers left over to freeze.  They're just like candy.
So, this is a beautiful meal for you and your Valentine.  The sauce is delish any kind of protein…or on anyone you love. =P
5 large bell peppers (red, yellow, or orange)
1-2 Tablespoons fresh thyme
1/2 teaspoon sea salt
2 Tablespoons oil
1 cup good quality broth
1/4 teaspoon cayenne powder
good squeeze of lemon
2 Tablespoons ground almond or hazelnuts
2 Tablespoons olive oil
6 cloves garlic, minced
Grill or roast peppers, or use canned or frozen. When cool, add to blender with broth, cayenne, onions and ground nuts. Blend until very smooth. In a Vitamix, this takes 2 minutes. It will take much longer in a normal blender. Saute garlic in olive oil, add in the blended peppers. You can poach a protein of your choice in the sauce, or just pour it on whatever you want to make yummy.