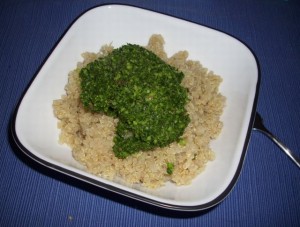 I love kale.  Adore kale.  Can't get enough, really, and that's why I've chosen if for this week's menu plan (see below) And my (current) favorite way of making it is in pesto form.    It's super easy, and totally customizable for taste.  Here's a basic template: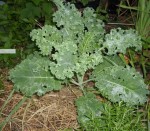 ——————————————
One REALLY large bunch of kale, ribs coarsely removed
1/3-2/3 cup Brazil nuts, toasted
3 cloves of garlic
1/2 tsp or more of sea salt
good squeeze of lemon
2 Tablespoons olive oil
1/4 cup Kalamata olives (optional, but optimal)
Coarsely grind brazil nuts in the food processor and toast for a few minutes (until browning). Cook kale in boiling water for 8-10 min, drain loosely. Put in food processor with garlic, lemon juice, Brazil nuts, etc. Process until smooth-ish and creamy, adding in olive oil as needed. Add olives at the end if you like chunks.
We usually have the pesto on quiona or baked on whatever kind of white fish.
I've added this to Shirley of GFE's Virtual support Group.  Her theme was greens and pizza, and since this is about as greens as it gets and you can put it on pizza, I couldn't resist!