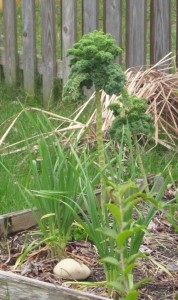 Happy Monday!
What a crazy week of scrambling and busyness it's been.  I spoke to the VA Dietetics Association Annual Meeting on eating a healthy gluten-free diet on Monday, which was just lovely.  I posted an adoption of Elana's wonderful recipes, and I also posted on self-care and putting "me first".  I also posted an April roundup of gluten-free news.
And we cleaned.  And scurried around.  And I made chocolate banana bread…mmm….The date our house is on sale was pushed back a week to this Thurs (wanna buy a house?).  So I will have to be very mindful about the amount  of kitchen "mess" I generate this week & in the future.
As you can see above, some of my kale from last year is still alive and well. (yes, this is real time! I took it this AM from my window, and you can see both the garlic shoots and kale) This fits in perfectly with Angela's theme of greens! It seems like Angela has an adorable new badge, too! If you'd like to host the menu swap, please email me.

Monday:
Kalamata chicken w/garlic and rosemary roasted cauliflower
Tues:
Hummus on a bed of greens

Weds:
Mahi w/Kale Pesto (or maybe quinoa? dunno)
(Wendy did a gorgeous review in her adoption)

Thursday:
Nightshade stew, hopefully with fennel
Friday:
Leftovers
Baked goods:
I just don't know. We'll see. I'm overwhelmed at this point.
BTW, was chatting with Valerie about self-care. Is anyone interested in a blog carnival on it in May? Let me know in the comments.