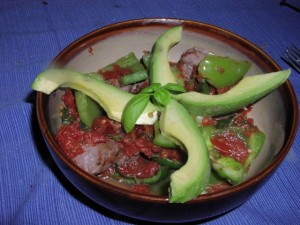 Everyone has that go-to meal for long days and times when there's just no time.  This is one of my favorite last minute standbys.  It is ready in less than 20 minutes, and it's a healthy, tasty, simple meal. I really enjoy it, there's something that's very 'comfort food' about its simplicity for me.  And it's easy enough that my husband has made it, too.
I tend to be a very "cook it from scratch" kind of gal, but there's a time and place for canned and frozen foods, too.  Especially when paired with herbs from my garden, you never know the difference.  For the protein, I have used ground chicken, turkey, or beef, though I'm sure soy crumbles would work too.  When DH is out of town, I half the amount of protein, the same amount of veggies and cut back a bit on the herbs.
In the summer months, the peppers are usually from my garden, and it's a good way to use up those green peppers that are too harshly flavored to eat on their own.  One of the peppers for this one was this summer's first (sorry, I forgot to take his picture).
When I have more time, I will saute two large fennel bulb and then continue with the recipe.  I love how fennel works with this.
We serve this with steamed broccoli, brown rice (thawed from frozen) or avocado, which is my personal fave. Also, for variety, sometimes we add black olives, sometimes garlic powder, sometimes a little parsley, etc. It mostly depends on my mood.
1 lb ground turkey, chicken, beef, etc.
1 14 oz can of Eden or other diced tomatoes (if you are using tomatoes with chilis, leave out the cayenne)
4 medium sized green peppers, torn coarsely
1/3 cup fresh herbs–combo of thyme, oregano and a little marjoram, rosemary, and basil
OR
2 Tablespoons of mixed dried spices
1/4-1/2 teaspoon of cayenne, to taste
pinch of salt
1/2 teaspoon garlic powder (optional)
1 can sliced black olives (optional)
Parm cheese or almond slivers (optional)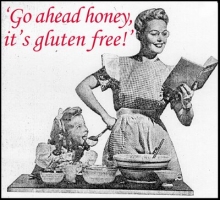 This is my entry for this month's "Go Ahead Honey It's Gluten Free" blogging event, started by Naomi at Straight into Bed Cakefree and Dried. This month's host is Carrie over at Ginger Lemon Girl, and the theme is one pot meals.