I can't believe how the summer is flying by! It seems unbelievable that it's the end of June but here we are. This week's flavor is oregano, as chosen by our kind host,
Gluten Free Sox Fan
. It is very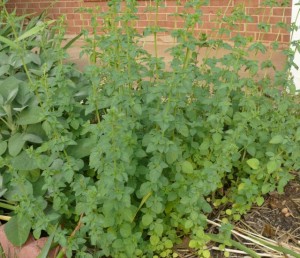 convenient, as I've got more than my share of it. I have a lot growing as you can see, but have just begun to use it more in my meals. I'm looking forward to seeing the other oregano recipes! I'll be posting an oregano-heavy meal for "Go Ahead Honey, It's GF" which is hosted by
Ginger Lemon Girl
. It's not too late to submit yours!
Monday:
Dinner: Nightshade stew, featuring oregano with avocado
Tuesday:
Here fishy fishy
Garlic scrape pesto halibut with steamed broccoli
Wednesday:
Leftovers! Something from my freezer (maybe turkey?) with red pepper sauce and caramelized cabbage
Thursday:
Rotisserie grilled chicken rubbed with oregano and other herbs and caramelized spring onions (finishing up my harvest for this year)
Friday:
most likely, munching while prepping for Saturday's cookout
Saturday:
GF Cookout!
Speidie marinated chicken, bbq chicken, veggie skewers, cornbread, freshly squeezed mint lemonade, fresh guac and chips, 3 bean salad, chocolate almond balls (maybe), black bean brownies (still tinkering with the recipe), pecan pie and…well, if I get inspired, who knows.
All GF, though not all dairy/egg/soy/corn/sugar free…but I'll have plenty to eat.
Garden roundup:
My garden: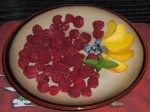 gobs of raspberries and some blueberries–that picture is the berries from one day, and I get those daily. it's awesome!
one peach
garlic scrapes
a pepper!
oregano, basil, thyme, rosemary, marjoram, etc.
mint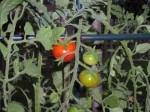 spring onions
And the first tomato, unless some little critter gets to it first! *update: I got it and it was super yummy. Nothing like your first home grown tomato of the season!!!

From the Farmer's Market:
Cabbage
cherries
cilantro
tomatoes
apples