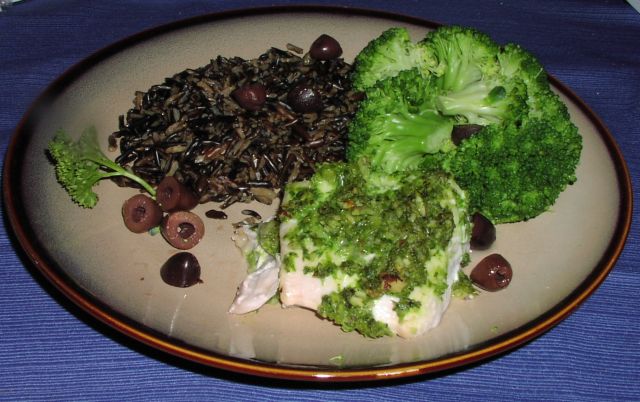 My hardneck garlics had scapes a few weeks ago, and now the soft necks are doing their thing. So it's the perfect time for garden pesto. The scapes and tops are much milder but still have the garlicky zing that I love.
I've used both hazelnuts and brazil nuts depending on my mood, and I must say they're both yummy. I leave the nuts a little chunky, but you can blend, depending on taste. I like it thick. Not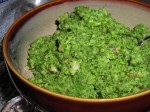 A thick sauce does it give flavor, but it keeps the fish from drying out. You use the pesto on pasta, on quinoa, on veggies, or pesto any thick fish. We used halibut, and the leftover sauce went on broccoli, carrots, and (in the interests of honesty) straight into my mouth.
And, of course, you can eliminate the water and do more oil for a more traditional pesto.  But with water it has a fresher taste about it, you're not missing out at all on the flavor, and of course, it's a bit kinder to your waistline, too.
1 cup garlic scapes or tops, pushed down
1 3/4 cups fresh parsley, packed down
2/3 cup brazil nuts or hazelnuts
1/4 cup olive oil
1/2 cup water
pinch of red pepper flakes (optional)
squeeze of lemon (optional)
handful of chopped Kalamatas (optional)
sea salt and pepper
Using a food processor, grind nuts very coarsely. Toast at 300 until starting to brown, about 10-15 minutes. Blend parsley, garlic scapes and olive oil, scraping down the sides as needed. Add water (or broth) and other seasonings if desired. Add in nuts and pulse until it is the desired consistency.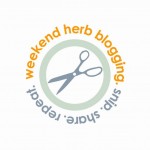 Marvelous on veggies, fish, or anything that needs a little jazzing..
This is my submission for weekend herb blogging, which is hosted by none other than the lovely Kalyn herself from Kayln's Kitchen!  She is also the originator of WHB, and I'm quite grateful, because it encourages me to post about by garden babies.