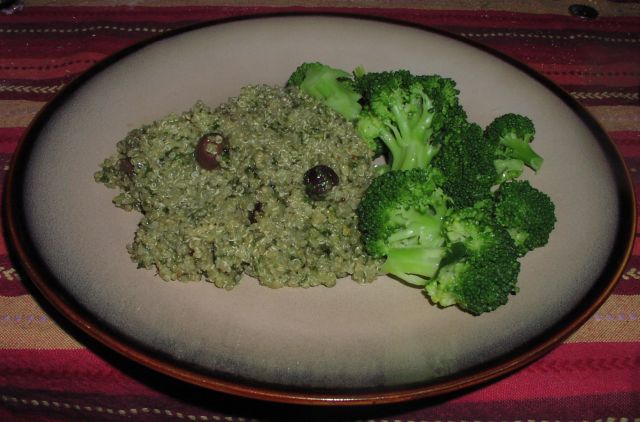 As always, I leave things to the last minute, and this is pretty much the last hurrah for my basil.   I'm just lucky that the weather has cooperated and that my basil is still around!  I love pesto, and it's just so easy to do.  It's even better because the basil and garlic are from my garden (the garlic was harvested and roasted months ago).
And, as an added bonus, pesto is part of my sneaky agenda to add vegan meals to the menu without DH noticing.  Pesto is so hearty and filling, especially with a great protein like quinoa, and I think it somehow escaped his attention.  Whenever he notices, he feels the need to compensate by eating a big bowl of ice cream…which entirely defeats the purpose.  He says it's not intentional, but I don't buy it.  We had a deal when we married.  I wasn't moving to Rochester, and he wasn't going vegetarian.  So far, we're living in Virginia, and still have a mixed diet.  But that doesn't stop me from trying to push the envelope.  Ah, the things we do for love…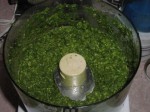 But onto the pesto!
I make a bunch at a time and freeze it so I can enjoy in the winter. I tend to make a pretty dry paste to freeze, and then just thin out with more olive oil as needed when I'm ready to use it. And there are so many ways to use it! Stir it into quinoa, as above, or use it as a pizza topping. Use it as a dip, pesto your fish….you're only limited by your imagination!
You may also notice that there's no cheese in this recipe, since I'm allergic to dairy. You can certainly add in some parm, but between the pine nuts and walnuts, there's a delightful creaminess and I never miss it.
3 cups packed fresh basil, washed at the last minute
4 cloves roasted garlic (optional)
1 clove raw garlic
1/2 cup olive oil*
1/2 cup toasted pine nuts and walnuts
Big pinch sea salt
good squirt of lemon
1/4 cup chopped kalamata olives (optional)
*more as needed or desired
Toast pine nuts and walnuts over medium heat in a dry skillet, shaking to prevent burning. Set aside.
Process basil, garlic and oil until smooth-ish. Add in salt, nuts and lemon and pulse. I like to leave chunks, but that's a matter of personal taste!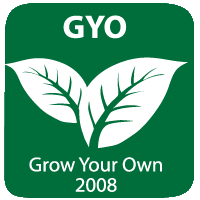 Since I've been missing the "Grow your own" deadlines for a while, I'm reversing the trend and submitting early! The host for this round is Andrea, of Andrea's Kitchen, who also was the founder of this event.