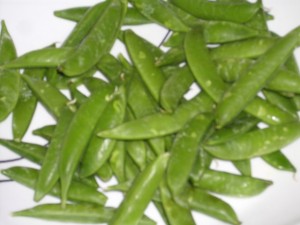 What a week!  Lots of fun posts, and if you didn't see Easy Meals, G-free Style, do check it out!  It's one of my best-appreciated handouts, and is a part of Diane's 30 Days of Easy Gluten-Free living, which has fantastic resources.  Diane also was kind enough to feature me in her "Food Rock Star" series, which was a lot of fun.
Life here has been really crazy.  Our house is under contract, but we haven't found one we want to buy yet…leaving us in limbo with 2 cats.  I look forward to sanity sometime soon…but until then, there are boxes to pack!
This weeks' host is Carrie, the Ginger Lemon Girl and she's chosen garden peas, which are super yummy.  I'll be having those raw, because it's easy.
And that's the theme for this week.  Easy.  I'm very aware of how stressed I am, simply by the uncertainty and knowing how much is ahead of me (and, of course, we had company this weekend so I'm catching up).  I'm really intent on finding a balance and taking as good care of myself as I can…while taking care of as much as we need. Self care is a huge part of my life, and has been for years, and yet times like this require a reinforced commitment.
We'll be using up freezer contents as much as possible, so this certainly isn't a normal week.
Monday:
Roasted lamb w/broccoli
Tues:
leftovers!
Weds:
Quinoa pizza w.homemade pesto from the freezer (my latest obsession, and I probably won't have a good skillet when we're in 'storage' aka temporary housing, so I might as well enjoy while I can!)

Thursday:
Hummus and greens
Friday:
roasted chicken (from the freezer) and asparagus