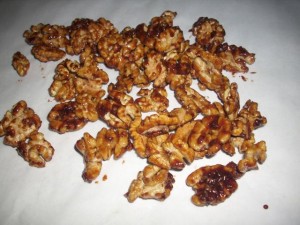 Mmmm….I love nuts.  What's not to love, really?  Delicious, portable, lots of variety…And of course, walnuts have nutritional benefits, with some ALA, which is a kind of omega 3 fatty acid.
And I've always been a fool for nuts with cinnamon and sugar.  So I've played around with a few variations, and really adore these gluten-and sugar-free vegan beauties, because I wanted to make them using coconut palm. I just adore the flavor! And, of course, part of the fun is getting the piece that's got the caramelized sugar clump–I'm sure you understand.  The only hard part is not eating too many…
I've made a small batch because it's key to have a skillet that conducts heat well, and my All-Clad is pretty small.  So funny how I revere certain pieces of kitchenware–ya know, the Vitamix, my All Clad skillet, a lot of my mini-bake pans…the older I get, the more expensive my toys, it seems!  But I digress.
These are delicious, so give them a try.  And here are a few other glazed or sugary nut recipes I've enjoyed in the past:
Elana's Cinnamon Pecan Brittle
Amy's Spicy Roasted Cashews
Spicy Candied Walnuts
1.5 cups walnut halves (I'm sure you could use another nut)
1/4 cup coconut palm sugar
2 TBSP water
1 TBSP agave
1 tsp cinnamon
1 tsp coarse sea salt
Toast walnut halves over medium/high heat until they start smelling yummy. Remove from pan. Sprinkle coconut sugar into the pan, which should start to 'melt' instantly. Stir, add water. Add back the toasted walnuts, add in the agave, cinnamon and salt and stir until well combined. Pour onto parchment paper.
Allow to cool, if that's your thing. These can be frozen.
Hopefully I remember to add this to Amy of Gluten and Sugar Free's Slightly Indulgent Tuesdays. This week's edition is here.