I am overwhelmed with the good things in my life!  The Celiac Disease Videos are out this week, I have a posting of a video I did on "Let's Talk Live" on Gluten Sensitivity.  But by far and away, I am so grateful that we've found a wonderful house to life in.
Those who follow my blog a bit know I have my share of physical challenges, and buying a 2 or 3 floor house was scary gamble for me.  And yet as always, we were able to find a house that I love–and one where I can be realistic about my body's needs and be surrounded by beauty, too.  Hiking used to be my favorite thing, and every week in grad school, I was off to find new parks and trees to make friends with.  Well, now I have a wonderful house surrounded by beautiful old trees.  If I can't easily go to the forest, the forest can come to me.  I feel so lucky to have kept the things that are so core to my heart and soul despite everything, and I am so grateful for my husband's support in making this possible.
And of course, there should be plenty of room for a big garden, too.  The gorgeous trees will limit some of the sun, but it'll work and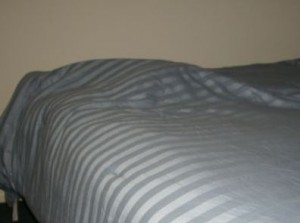 I'm sure we'll have wildlife to share with as well.
Now someone just needs to tell our feline contingent that the mad house rush is almost over and as soon as we move, it's time to come out from hiding under the covers. Hopefully we'll move mid-June.
Our kind hostess is Heather of Celiac Family. She's chosen rice, and I'm allergic. Bummer. And I do keep rice around because my husband eats it, and it's a common ingredient in many recipes I've been asked to test, but I get a worse reaction from it than almost anything but gluten.
On to food! We've got to empty the freezer ASAP.
Monday:
Rosemary beef stew with veggies
Tues:
Baby greens and Kalamata hummus
Weds:
freezer inventory–I know we have a chicken, and I'm sure I'll come up with something.
Thurs:
assorted frozen foods…
Friday:
Halibut with Kale Pesto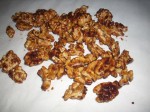 And if you haven't seen my newsletter on a gluten-free and vegetarian diet, or my Cinnamon Glazed Walnuts, do check them out. I also do need a host for the 23rd and will be out of town this weekend for a mediation retreat so please let me know early.