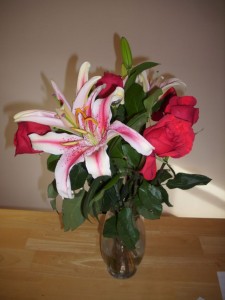 Many thanks to Heather of Celiac Family who stepped in again as MPM's host!  I spent the weekend at a silent retreat, and was thinking maybe I could swing it when I got back—riiiight. I did truly enjoy my time away, but came back to packing boxes, appointments with the electrician and a mile long to do list.  And calling all hosts for next week!  Most likely my computer will be in a box at our temp "human storage" spot.
The flowers are my birthday flowers!  Kudos (&positive reinforcement) to DH for getting them for me.
This week will be haphazard, with much of my kitchenware already packed.  And I'm allergic to corn so I won't be including that this week.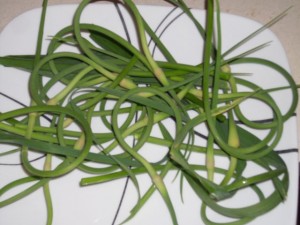 Monday:
Alta's Quinoa Pizza w/Garlic scape pesto from my garden
Chocolate raspberry love pie
Tues:
Mahi w/ a simple tomato sauce and steamed broccoli
Weds:
Roasted Chicken (using freezer stash) and sauteed celery
Thursday
Hummus on a bed of greens.  Maybe roasted tomato hummus if I've still got some in the freezer.
Friday…
whatever the heck I can find in the fridge.