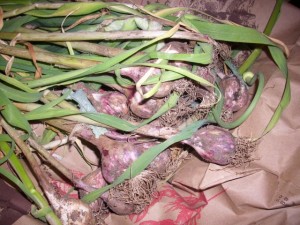 First things first: the Celiac Disease and GF Diet videos are out! I am delighted to share them at long last and would love to hear your feedback.  As many of you know, they've been a labor of love during the past year and a half, from funding to coordinating to editing! I think they turned out quite well, I look awfully nervous in the intro but stick with them–there's some great info. I am very grateful for the many people gave so much time, energy and effort to making this project happen and of course, Celiac Sprue Association funded the video production.  If you have thoughts for ways to spread the word, let me know!
Onward to the week: We're moving out.  Today.  And not moving in for another 11 days.  It's a mix of overwhelming, busy, stressful, sad and hopeful, too.  We've been here 8 years, and it's hard not to get nostalgic.  I have to say goodbye to my garden, my raspberry & blackberry plants, which will be fruiting in, oh, about 5 days (nice timing, right?).  When we moved in, I was an entirely different person–different last name, different job, different passion, different foods, different health circumstances…same cats, same dude.  It feels like a very big transition.
And nothing make transition easier than good food, which feeds in nicely to Wendy's theme of Seasonal Food. As always, Wendy has a great rundown and I appreciate her stepping in as hostess. I do have some kale left from last year, which was way stringy, and more partially mature garlic than I know what to do with.  It's roasting in a pool of olive oil as we speak.
I seriously need to figure out food this week because we will have a stovetop, but no oven. Here goes:
Monday:
Sniffle stew w/the very last kale from the garden
Tues
Salmon on a bed of greens
Weds:
Chicken in coconut sauce w/kale
Thursday:
Leftovers w/broccoli
Friday:
out for Thai–steamed veggies w/cashews
Not glamorous, but I totally know when I don't eat well, I can't function well. So I have to eat well!