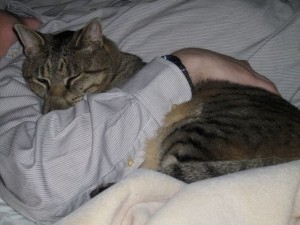 We are currently mid-move!  Our old house is sold and we're in a hotel, waiting for move #2 into our new house.  Contrary to the picture above, it has not been as peaceful as we'd hoped, but we only have a handful of days to go.  Whew!
Life has been busy.  My days have been filled with work, getting out the word on the Celiac and Gluten-free Videos and even writing a post for the Washingtonian as part of their food diary series. This week the diarist was a mostly vegan, gluten-intolerant athlete.
And of course, with all of this, eating has been a challenge.  We have a kitchen, it's small and there's no stove.  Nor is there a good cutting knife.  Man I'm spoiled!  So I am working on ways to adjust my cooking prep style to accommodate.
Monday
Greens, beans and olives w/pesto
Tues:
Salmon on a bed of baby greens
Weds:
Fennel and beef sauteed in tomato sauce
Thurs:
Last night before new house! some kind of celebration (hint, hint. E, if you're reading this, that means ask me to go out to dinner. K?)
Friday:
Moving day! probably Amy's soup
And everyone else?
BTW, if anyone wants to host, please contact me.
Claire of My Gluten Free Home joins us for the first time (I think?) She's got risotto on the menu, which I love, and she also has a sweet love note of a sort on her husband and his appreciation of simplicity. She's also got a cookie recipe from earlier this week…so go check out her blog.
Do you know that Carrie of Ginger Lemon Girl has 3 crockpots? I think that makes her the crockpotting queen! She's got a nice layout of her week, including breakfasts, lunches, dinners, snacks…even lunchboxes! And I'm hoping to hear more about the sweet potato side dish.
Heather of Celiac Family is a mama to a 6 and 8 year old and they tend to favor simple foods. She's got a kid's choice night on the menu, and garlic shrimp chicken. I do always appreciate her pictorial meal plan, too.
Angela's kids are almost out of school and that means a trip to the zoo, track and field day, etc. There's pulled BBQ pork on the menu and that is one of DH's very favorite foods.
Scrumptious of In my CSA box has a vegan and GF menu, as usual! She has a "kaleful" week planned. This is the first time I've used the word "kaleful" in a sentence, but hopefully not the last. Love the idea of red lentils with kale and coconut.