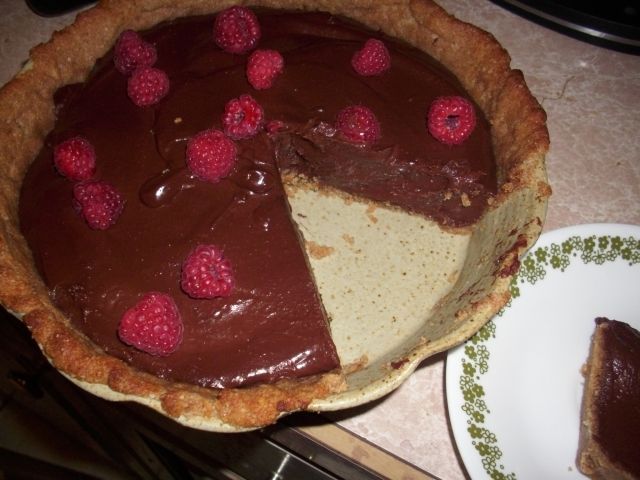 Q: What's better than a beautiful organic raspberry?
A: A beautiful organic raspberry from your very own garden.
It's not growing now, of course, since we're smack in the midst of winter, but I have a frozen stash to remind me of the tastes of summer.  And nothing quite pairs with raspberry like chocolate, and this is a heavenly marriage of the two.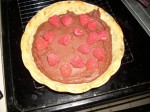 This pie is absolutely decadent, luscious, super yummy vegan, grain free, sugar free masterpiece of yum-ness.  And it's a great make-ahead pie as an added bonus.  I'm not even going to mention the fact that, especially due to the secret ingredient, it's pretty darn good for you.
I've been making this pie for a while, and lost the recipe.  I tried to re-create it, and I got a delicious pile of mush.  So I gave it a roll again, and was delighted–I think this was better than the original versions.
If you don't have a Vita mix, a) I'm sorry and b) no worries, the raspberries just won't be as smooth.
1 cup raspberries (frozen is perfect)
3/4 cup agave nectar
1/3 cup of stirred cashew butter (generous)
1 can well-rinsed, well drained Canelli beans
2 teaspoons vanilla extract
2 teaspoon stevia powder concentrate
3 oz melted good quality unsweetened chocolate. Scharfenberger is my favorite
2/3 cup cocoa powder
Prepare a crust in an 8-inch pie crust. I used a simple almond crust, and didn't write down anything. Whoops! (UPDATE: When the Washingtonian was kind enough to share this recipe, I added in a crust recipe, too)
Blend raspberries and agave very well. I use a Vitamix, and wait until they are quite smooth. Transfer to a food processor, add beans and thoroughly blend for 3 min or more. You can do both steps in a food processor and it just won't be as smooth. Add in the rest of the ingredients, blend well.
Put chocolate filling into prepared crust, refrigerate a few hours until firm. Decorate with raspberries.
DH and I will be savoring the last piece of this pie for V-day…
I plan to submit this to Slightly Indulgent Tuesdays at Simply Sugar and Gluten Free. This week's roundup is found here.