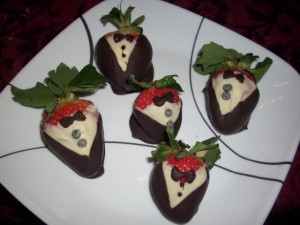 Happy Valentine's Day all around! I've been a big fan since I was little, and in the past decade, the old-school heart cookies have been replaced with tuxedoed strawberries.   I even made these vegan using Hannah's white chocolate recipe. (I tried making it sugar-free,which was a total flop!) And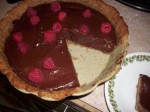 since I was meeting people for tea yesterday, I made a chocolate raspberry pie, which I just posted, too (vegan, grain free, sugar-free, magnificent-most).
I chose the theme "food as love" because I'm a feeder.  It's in my genes.  I'll delight in feeding almost anyone, and there's something especially nice about seeing the joy of someone on a restricted diet enjoy the delicious flavors no matter what.  It's so awesome to share foods from my garden. However, it really is a broader definition of feeding.  I love to give DH massages, love to water my plants, love to feed the kitties with love…  Of course, I'm looking forward to seeing how each of you feed the ones you love.
Speaking of "food" and "love", check out my "Best of the Best" post on Amy of Simply Gluten and Sugar Free (and one coming soon on Shirley of GFE!.  On a less warm and fuzzy but still interesting note, I posted article on Gluten Intolerance, too.  One of my goals is to start tweeting nutrition info @cherylharrisrd.
Onto the food:
Monday:
Mahi in homemade tomato sauce with Kalamata olives (I actually won't be home, we're doing V-day dinner on Weds)
Tues:
Yummy Lentil Dal
Weds:
Malaysian Curry (DH's favorite)
Thurs:
Thai Curry with broccoli
Friday:
Leftovers!
Sweet treats:
Tuxedoed strawberries
Raspberry Chocolate Pie
Something fun next weekend…TBD. Maybe GLG's Chocolate Muffins?
And everyone else?
Renee of Beyond Rice and Tofu has a special meal planned for today–pizza, which is her husband's favorite.  They'll be enjoying chocolate together, too.  She's also got pasta with lentils and ginger on the lineup, which sounds fascinating.
Nicola of G-free mom is about done with Valentine's day, since she's been working overtime to make things for everyone's classes.  And I LOVE how she puts it: "Every single meal that I make for my family is made with the sole purpose of providing nourishment and smothering my boys tummies with love."
Wendy of Celiacs in the House discusses how "food as love" changes with Celiac, and how we all have slightly different diet needs.  Her broiled tilapia with Thai Coconut Curry Sauce looks fantastic!
Michelle of Gluten Free Smiles had a love-filled menu–and then she and her love caught a bug.  So she'll be having soup and taking it easier than she expected.  Hopefully she gets to make the other dishes because the Thai coconut curry wraps sound yummy.  Send them some warm fuzzies!
Scrumptious knows how to show love–blood orange and kimchi cordial.  The kale and potato gratin sounds delish, she's got "the best broccoli of your life" and she also has pear skillet bread on the menu.  I totally have to make that soon!
Heather of Celiac Family is on mommy duty like Nicola!  Valentine's sugar cookies, heart shaped brownies…and she even made a heart shaped pizza, too.  She has a pictoral menu plan as well, so check it out.