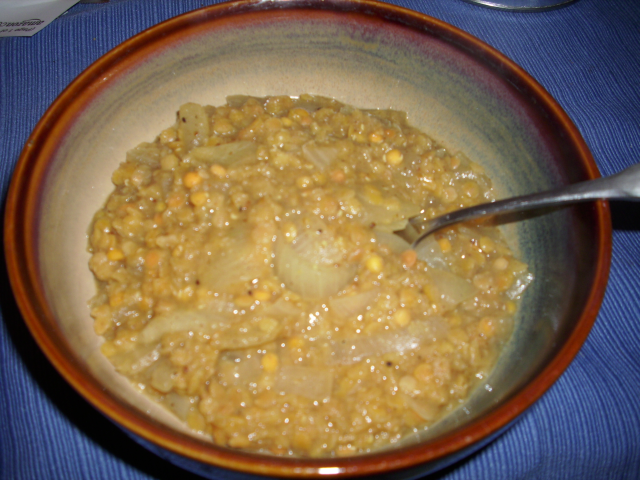 As I was looking through my recipes, I realized that the number of of (well, mostly) wholesome desserts to food had gotten skewed more toward the dessert side. Which isn't so much a problem, but I like balance. Since we have 10-20 inches of snow on the way, it's a perfect time to post one of my very favorite, easiest, yummiest, recipes. I love it, and love even more that it's just like a hug on a cold winter day. Try it, you won't be disappointed, I promise!
And, of course, it's allergy friendly and vegan.
I use blended young coconut meat and broth, I'm sure you could replace some of the broth with coconut milk. This is a very basic recipe that is totally open to artistic expression! Add in a dash of cayenne or other spices to taste.
1 chopped onion
1-2 Tablespoons olive or coconut oil
1 cup red lentils
1 teaspoon curry powder
1 teaspoon garam masala (or 2 tsps for milder version)
most of carton (3-4 cups) broth (I enjoy Pacific foods)
meat of a young coconut blended with the broth OR 1 can lite coconut milk
salt to taste
Saute onion in oil until translucent. Add in the curry/garam masala, stir for a minute then add in lentils. Add broth/coconut blend and let it simmer for 30 minutes or until the lentils are well cooked. Add salt to taste.
And that's it. Serve with roasted cauliflower, purr.