Happy snowy Monday!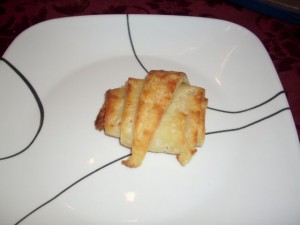 We're under 2 feet of snow, or thereabouts, and fortunately DH is on shoveling patrol and my main responsibility is to make hot chocolate. I can handle that!
I have been doing way too much baking since I'm stuck home: meringues, croissants (yep! they are beautiful, but I did roll them too thickly), an apple crisp, brownies, and more. Now I just need to get to posting!
Angela of Angela's Kitchen is our kind hostess and garlic is her theme. I love the sound and the name of her Thai Thighs, so check it out! We are having garlic chicken and broccoli for lunch today, so we're all set.
And please let me know if you'd like to host.
Monday:
Garlic Chicken and broccoli for lunch and probably dinner–we haven't ventured out yet.
Tues:
Chai chicken with broccoli–a cinnamon/cardamom/cloves seasoning blend that I made ages ago. We'll see how it works out.
Weds:
Turkey and celery in chestnut sauce
Thursday:
Red lentil Dal and cauliflower
Friday:
Leftovers
Sunday:
Red Pepper chicken!
Treats:
there will be chocolate covered strawberries, as always, and who knows what else. I guess it depends on how many days I'm home!