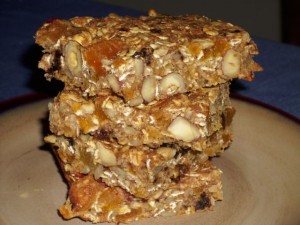 As someone who is gluten and sugar free, it seemed quite natural that I'd want to adopt Amy. Amy is quite an impressive chica, just starting out in culinary school with a variety of recipes that she churns out regularly! I'm impressed, especially since I've fallen off the posting wagon as of late.
When I got Amy's e-book to raise money for St. Jude's walkathon, the granola bars caught my eye for 3 reasons.
1. A good friend died of leukemia when I was in elementary school
2. a year ago next week my labs and symptoms seemed to suggest leukemia. Thankfully I didn't, but the weeks of fear, poking and prodding and hospitalization made it an abjectly miserable and memorable experience.
3. DH loves granola bars
DH eats a plethora of sugar/HFCS soaked granola bars, and it drives me bonkers. I've made him home made granola bars in the past, but alas, he's complained that they're sticky or don't hold together well. However, Amy's bars were a hit! I made them as directed except I used hazelnuts since it was a snow day and we were out of walnuts. They were study and flavorful, and kept well for weeks in a sealed container, which was a great plus. And most importantly, they passed the picky husband test. I made them again, even, and used cherries, chopped uncrystallized ginger and orange zest. Yum!
So thanks, Amy, for the recipes and inspiration. And I'm sure if people still want to donate to St. Jude's through Amy or otherwise that they'd be gladly accepted.
This adoption is hosted by the fabulous Sea of Book of Yum. Check out the other adoptions and/or join in on the fun!