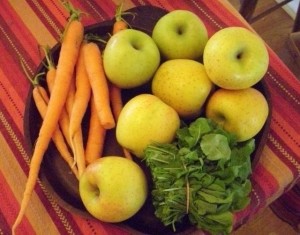 I was surprised by Ginger's pick of "locally grown" for this week's menu swap. It IS much harder to get locally grown foods in the middle of winter, but that's extra reason to support local farmers! Hopefully we can do this one again during summer months, too. My goal was to get something locally grown each day, and I think it'll work.
This was an amazing excuse to head to the only local Farmer's Market that is open: Arlington Farmer's Market. My bounty is pictured above. I was so glad to get Gold Rush apples. They're absolutely amazing and have been an addiction for the last year or so. I had been hoarding my last one, and was delighted to get a bunch more.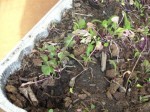 My menu features locally grown foods, and a few from my own garden. Currently, I have collards outside, which have been mostly devoured by the rabbit, some parsley, carrots, onion shoots and thyme, rosemary, sage, tarragon, lavender, and a little oregano, too . Inside, I have arugula (a little), cilantro and a bunch of dormant plants: an artichoke plant, a peach tree, a kaffir lime, a curry plant, and lemongrass.
Monday:
Chicken soup leftovers, featuring locally grown carrots and parsley and carrot tops from my garden
Curried chicken with locally grown collards
Tuesday:
Nightshade stew (frozen tomatoes from my garden)
Weds:
Vegan
socca with pesto (frozen)
Thursday:
Trout with almonds and broccoli
amazing Gold Rush apples
Friday:
Beef in a Thai Curry Sauce (peppers from my garden)
Baked good:
brownies: either these Brazil Nut Brownies or super decadent recipe for vegan brownies that's totally TDF