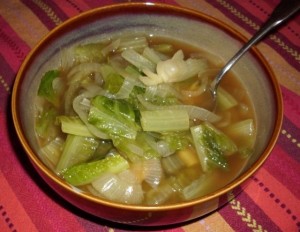 This is a quick and and easy recipe that I turn to when I have a sore throat. It is in no way authentically Asian (or authentically anything, for that matter!) I find it very satisfying, and very low maintenance. A good broth or stock is a must. I tend to use home made. Problem is, once you use home made, it's hard to go back to the store bought stuff!
I must admit that putting lettuce in soup was a random inspiration and it works oddly well. Try it before you rule it out! The amounts of onion and lettuce totally depend on whether I'm in the mood for a broth-y soup or a heartier soup. You really can't go wrong.
3-4 cups good quality broth or stock
1 inch of fresh ginger, cut into 1/8 inch slices
1/2 medium onion, cut into 1/8 inch ribbons
1 head romaine lettuce heart, coarsely chopped
Salt and pepper to taste
Bring broth to a boil, add in ginger and onions and simmer 35-40 min or until onions are tender. Add in lettuce and cook until wilted and dark green, 7-8 more minutes. Remove ginger chunks (unless you are VERY brave!), adjust salt and pepper and enjoy! 

I'm serving up this soup for Weekend Herb Blogging, as originated by Kalyn of Kalyn's Kitchen. Haalo is currently the WHB "mom" and our host this week is Pam from The Backyard Pizzarea.  Pam's photos are lovely!