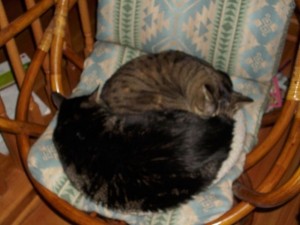 What a week to stay snuggled and bundled up! When I mentioned to friends that our cats tend to do the "furry yin yang" in the winter months, I was met with blank stares. So this is what it looks like, even though we may need to put "yin" on a diet…. Moral of the story is that when the world gets cold, snuggle up! I'll have to work on that advice.

Book of Yum is our host for this week, and her pick of lentils or dal is perfect for this chill. I've been eating more than my share of dal in the form of Amy's Curried Lentil soup, though I haven't made dal myself. However, I just got a copy of Mark Bittman's How to Cook Everything and will be trying his recipe for dal. And, of course, once I see all the other lovely posts, I'll have to search through for inspiration.
When I'm not cooking, or eating, I'm talking to other people about food. I'm a Registered dietitian in Alexandria, VA. I'm hosting a healthy recipe contest, so if you're interested in submitting a recipe and winning some fun prizes, hop on over! Due to the cost of shipping, winners must be in the US or Canada (sorry!)
Monday:
Thai Beef curry with broccoli (didn't make it last week)
Tuesday:
Dal with papadams and roast cauliflower with cumin seeds
Weds:
Roast turkey with pureed fennel soup
Thursday:
odds and ends:
Asian style gingery soup
Maybe quinoa?
Friday:
Garam masala chicken
artichokes with a lemony flax dipping sauce
Baked goods of the week:
to be honest, my appetite has been tiny lately, hence the scarcity of recipe posts! I'm thinking of making a meringue from Susan O'Brien's Gluten free sugar free cooking for friends. For me, maybe hazelnut mesquite cookies. We shall see.