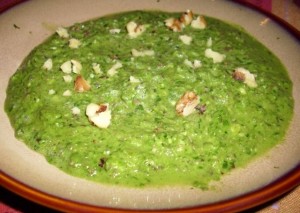 This is barely a recipe, but it is tasty! Lately, quick and easy have been the primary food criteria around these parts.  This pesto fits the bill, and works to make anything taste yummier. I use it as a dip for raw veggies, and add it to quinoa, steamed veg, fish, etc.  I use less oil than I do for a regular pesto because it's been bothering my poor sensitive tummy, but feel free to sub more olive oil for the water for a more traditional pesto.
And as a bonus, DH doesn't seem to realize that he's eating veggies…
5oz package of arugula, well washed
1/2 cup water* (see headnote)
1/4 cup olive oil (or more)
1/2 lemon, squeezed
1/2 teaspoon sea salt
1/2-1 clove of garlic, optional
1/2 cup pitted Kalamata olives
1/2 cup toasted walnuts, pine nuts or a mix
Put arugula, water, oil, lemon and salt in the food processor and blend until smooth. Add in olives and nuts and blend, leaving it as chunky or smooth as you like!