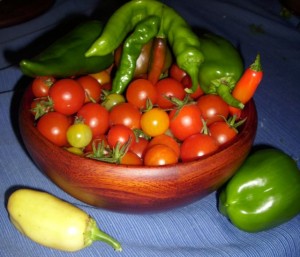 See my beautiful tomatoes and peppers? I'm so delighted to have such an abundance of gorgeous veggies, and I can't believe they're still doing so well in late September.
I've also just posted the last DB challenges-Vols-au-Vent, which are fancy puff pastry cups.
This week, I chose vegetarian meals as the theme. I don't eat vegan every day, quite frankly because I don't feel as well or have as much energy after a day or so.  But I do think it's important for us to cut back. DH and I have discussed adding more veg meals into our diet, and we've discussed it before, but it just hasn't (yet) happened on a regular basis. We have a few quinoa and bean dishes that we have. We love the quinoa ones, but I haven't totally sold DH on them yet (with the exception of a chocolate raspberry pie made with navy beans–I will post this later this week).
Here are a few of our favorites
I can't wait to see your vegetarian favorites!
Monday:
Celery and turkey in chestnut sauce
Tues:
(vegan)Lemony Mint Quinoa
Weds:
(vegan)Red lentil curry with cauliflower and papads
Thursday:
(Vegan) Malasian curry (from the spice and herb bible)
Friday:
Pesto-ed mahi
Baked goods:
I surely don't know. My baking has been pretty impulsive lately. Last week, I made an apple crumble (like this but less arrowroot and a mix of apples and cranberries), cinnamon bread and ginger cookies.
From my garden:
tomatoes
peppers
lemongrass
basil, parsley, thyme, rosemary, etc
carrots
From the market:
apples: gobs of them!
kale
onions
and everyone else?
Kim of Gluten free is life includes some of her favorite vegetarian dishes, including a Cocoa-coconut chili recipe from ED&BV.  Need I say more?  I think my menu for this week is changing now!  And she even gives a heads up on a pumpkin shortage.  Who knew!
Elizabeth of A Modern Gal joins us with a low carb menu.  She's got a lot of interesting dishes on the menu, such as Aztec vegetables, quick black bean soup, and more!
Sea of Book of yum was a shoo in for this one, as she's always a gluten free vegetarian!  She shares a fabulous looking recipe for Arugula Herb Gnocchi, which is dairy free, too, so that baby Sea is a happy camper.
Heather of Celiac Family has a hectic week planned, but she still has some Cilantro Lime shrimp on the menu that sound awesome, and I love the idea of breakfast for dinner.
Trish of Gluten Free in SLC shares a squash primer, and she has many locally grown foods on her menu, which I think is awesome.  I wish we had more co-ops here.
Deb of Green V-neck has a great line up, and I love the idea of sweet potato chili–reminds me of butternut squash chili that I should start making again!  Her asian noodle salad sounds great, too.  Thanks for joining us, Deb.
Thanks for the vegetarian inspirations!