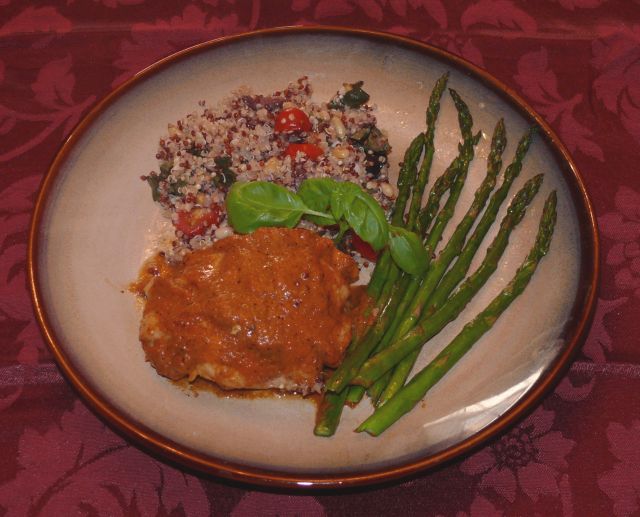 Ok, I know there's nothing Italian about quinoa, but boy, does quinoa go well with traditional Italian flavors like tomato, basil and pine nuts. I've enjoyed quinoa for years, but usually did it with a southwestern twist. But I wanted to do something totally different, and use familiar flavors to introduce quinoa to the uninitiated…and it worked!
Toasting the quinoa is key. It takes a while (15 min or so) over medium heat in a dry skillet, but most of the time you're ignoring it and free to do whatever else. It really helps the nutty flavor of quinoa shine. You can toast it ahead of time and keep in a jar for a month or so.
Raw pine nuts are delicious, but roasted…they're a symphony.
I played with using half regular quinoa, and half of the Inca Red quinoa. And it looked lovely! But the regular quinoa cooked quicker, and the red remained a little crunchy. Everyone seemed to like the crunch factor, but I think I'd stick to one or the other in the future.
Also pictured in the photo are roasted asparagus and red pepper chicken. I'll have to post those recipes when I get a chance, but to me, the quinoa is the rock star… and many thanks to Natalie, the photographer.
Enjoy, let me know what you think.
Quinoa Italiana (quinoa with an Italian flair)
1 cup quinoa
1/3-1/2 cup of pine nuts
3 Tablespoons oil
8 cloves of garlic, chopped
2 cups chicken or veggie broth
2-3 sprigs thyme (optional)
½ cup kalamata or other olives, pitted and chopped
1 cup cherry tomatoes, halved
1/2 cup fresh basil, torn or coarsely chopped
sea salt
black pepper
Toast quinoa over medium heat in a dry skillet until it starts to smell toasty (about 15 minutes). Stir occasionally or shake skillet. Remove.
Toast pine nuts until slightly browned. Remove to a plate.
Add oil, garlic and a pinch of salt, sauté until the garlic is golden. Add quinoa and stir, add broth and thyme. Bring to a boil and cover, let simmer for 10 minutes. Add olives and pine nuts in after 10 minutes. In about 5 more minutes, the broth should be absorbed. Add tomatoes, black pepper and basil. Enjoy!
~from Cheryl's kitchen ©2008