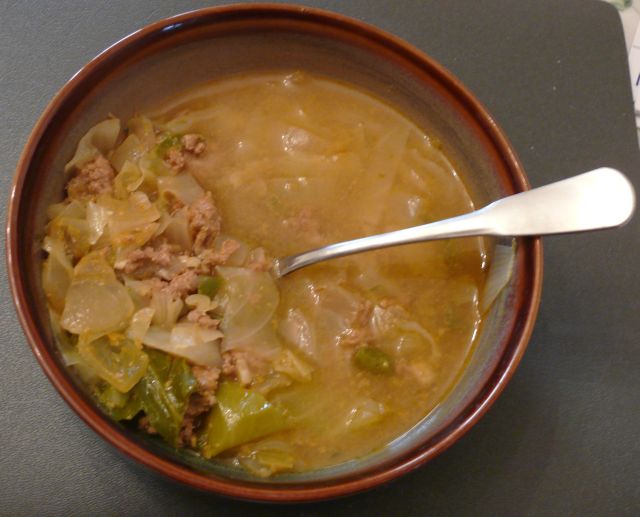 You know how dogs and cats have this spot, and if you scratch it at just the right angle, they start to purr? Well, I have this thing about comfort foods…they've got just the right mix, and I'm purring away. Soup is usually a "winter food" but April is such a rainy month that it's perfect now, too.
Cindalou's Turkey Chili soup hit the spot for me. It had that simple but delicious comfort food kind of vibe going on. For one of the first times in my life, I followed the recipe almost to the letter. I did use fresh herbs instead of dried, mainly because I have an herb garden. And…mmmm. But yum with a kick! The jalepeno I used was over-the-top hot. Usually they are so bland, but this baby packed a punch! I'm not so much into super spice, so I did add some vitamin C crystals (they give a lemon flavor, for those of us who are citrus allergic) but that was totally a reflection of the pepper I used and my mellow tastes, not the recipe.
I didn't try the optional BBQ sauce because of allergies/intolerances, but I bet it would be a nice touch. I think sauteed collards would pair well and I'll have to make some next time.
I've been a long time fan of Cindalou's blog. It's clear that she is an intrepid explorer and totally willing to just play, which is the best way to come up with neat ideas! And I do plan to try her muffins that have cabbage, basically because for the life of me, I can't picture cabbage in a muffin. I woudn't have thought of that one by myself, and that's why it's so awesome to be able to peek into someone else's kitchen for inspiration. I love that her diet is much like mine! For reasons beyond my choosing, I'm largely paleo, and it's hard to find foods that are without gluten, dairy, soy, eggs, etc. AND low carb. And, of course, tasty.
For more fun in the gf adoptee universe, please see the Book of Yum site, which is coordinating the festivities this month.