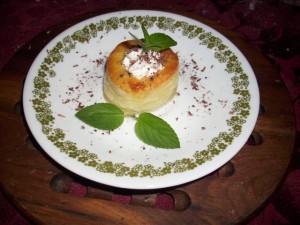 The first of the month is now a fun time of anticipation, wondering what new adventure is in store for the Daring Baker challenge. Invariably, it's something I'd never dream of making on my own, and this was no exception!
The September 2009 Daring Bakers' challenge was hosted by Steph of A Whisk and a Spoon. She chose the French treat, Vols-au-Vent based on the Puff Pastry recipe by Michel Richard from the cookbook Baking With Julia by Dorie Greenspan.
Now, I'd never heard of Vols-au-Vent before, and couldn't find a GF recipe out there. But Alt DB'ers to the rescue, and the general suggestion was to try a puff pastry or croissant recipe, and go from there. I used the Better Batter croissant recipe.
It was much easier than I expected, although I made my life much harder than necessary by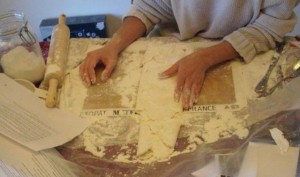 doing 3 turns and rolling out 4 times (moral of the story: read the darn directions!!!) Not only that, but I suspect that 2 turns would have given a better product. The smell was heavenly, and the short ones came out beautifully, but the big cups just didn't cook through very well, and I didn't realize until they'd cooled a lot.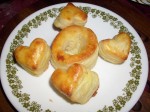 I was jazzed to know that indeed, pastries are possible and easier than I thought (note: not easy, just easier) and I will do this again as a croissant. And, of course, flour went everywhere. I mean, everywhere. But it was awesome to have the house smelling so beautifully, and what a treat to have GF puff pastry!
Please see the other DB'ers for their delicious works of wonder, and I can't wait for our next challenge!