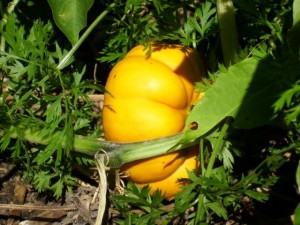 I enjoy the Fall time, especially since I have such a luscious garden bounty. My tomatoes have been generous, I'm finally getting to enjoy some peppers, the carrots are getting big and pumpkins are on their way! I'm a mini-pumpkin kinda gal, as I'm allergic, but love them for their ornamental qualities.
Wendy of Celiacs in the House is kind enough to host with a pumpkin theme this week (thanks, Wendy!)
So…here's my super quick plan, since I'm already late:
Monday:
Kale and white beans
Tues:
beef/garlic stir fry
Weds:
Roasted rosemary salmon and broccoli
Thursday:
Chicken in a Sri Lankan masala sauce (courtesy of the Spice and Herb bible)
Friday:
Dunno…leftovers?
Baked goods:
the DB challenge–let's just say, super luscious. in the extreme!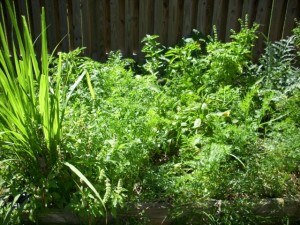 an apple crumble
In my garden:
tomatoes
peppers
herbs
pumpkins!!
From the market:
kale
peaches
apples