M-elle of La Cocina de Michelle (aka Cooking & UNCooking) has picked one of my favorite most foods ever–quinoa! And it's a perfect week for it, because when DH is out of town, I tend to eat mostly vegan fare. So a big thank you to M-elle!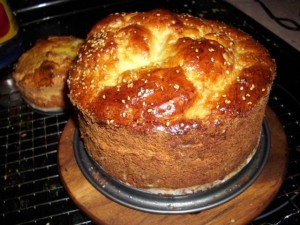 It was a fun week in the kitchen. I've been intent on making a challah for Rosh Hashana, which is right around the corner. I tried, and tried, and tried to adapt one of my egg roll doughs for the process and repeatedly tried to make it into challah…but nope. Tasty bread, yes. Challah, no. So I caved in and tried Vic's recipe. It seems to taste much more like challah. It's hard to know for sure–I can't try it because of the egg, and I've had trouble finding people who know what it's supposed to taste like. But oh, it smells right, and I was totally tickled. I do have to work on the shape, though. It rose more than I expected.
I also posted a flourless chocolate torte this week, which is delightfully gluten, dairy and sugar free, and super yummy!
Monday:
Salmon and fennel
Tuesday:
Lemony mint quinoa with fresh tomatoes
Wednesday:
Red lentil curry
Thursday
Friday:
Rosemary chicken, asparagus and some yummy apple themed dessert
Baked goods:
Challah
agave sweetened caramel sauce with apples
Growing in my garden:
my tomatoes–despite the weather, they're alive and happy. I think it's 'cause I sing to them
peppers
herbs–basil, oregano, thyme, mint, rosemary, lemongrass, etc.
From the market:
peaches
apples
plums
asian pears