A last hurrah for the season…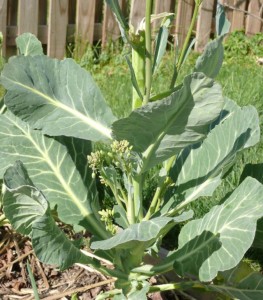 These are my lovely collards, which overwintered in my garden. They started to bolt with the heat, and so it was clear it was (past) time for them to go. I'm totally partial to everything I grow, foods just taste better when you grow them yourself. There's something very rewarding about nurturing something from a seed and then enjoying the harvest. I just needed a to create recipe worthy of my collards. I think I did! It was a very filling and satisfying meal. It will definitely be in the rotation for the colder months.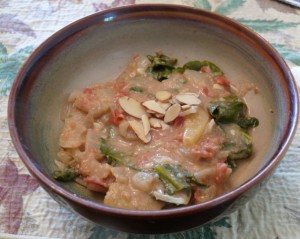 I first had a peanut-chicken stew with tomato and basil years ago from an co-worker from Guinea where it's a traditional dish, and I was hooked. Though PB isn't an option for me anymore, but the idea stuck in my head, and I wanted something along the same lines, but with a different twist. Nut butters add an indulgent richness, creamy smoothness and a great depth of flavor. Try it! One bite and you'll be a convert.
Collards are in the mustard family, related to cabbage, broccoli, cauliflower and other yummy veggies. I never tasted collards until I moved to VA, and now I am making up for lost time. Collards are a fabulous source of fiber and a variety of vitamins and minerals, including calcium. Actually, there are several foods high in calcium here: collards, almond butter and teff. Maybe I should call this calcium stew instead!
1 large onion
2 Tablespoons oil
6 garlic cloves, finely chopped
A knob of fresh ginger, finely chopped (about 1/4 cup chopped)
1 bunch of collards–2/3 lbs after de-ribbing, so maybe 1 lb?
1/4 teaspoon curry powder
1-14 oz can of diced tomatoes (I like Eden Foods)
2 cups vegetable broth
1/4 teaspoon cayenne
1/3 cup frozen or canned pineapple
1/4-1/2 cup teff grain (optional)
A generous 1/3 cup of almond butter
1/4 cup toasted almonds for garnish
Salt and pepper to taste
Saute onions in a big pot/dutch oven with a pinch of sea salt over medium heat for 7-8 min, stirring occasionally. Meanwhile, chop your garlic and ginger. Add garlic and ginger and cook for a minute, add curry powder and cook a minute more. Add in undrained tomatoes and broth. Bring to a boil. Remove thick ribs from collards and add coarsely chopped collards, in 2 bunches (don't overwhelm the pot!). Once boiling, add cayenne, pineapple and teff. Cook at a healthy boil, uncovered, for 10 minutes. Add almond butter and mix, simmer an additional 10-15 minutes to allow flavors to meld. If you'd like a 'soupier' stew, go for 1/4 cup of teff. If your collards are big or tough, you may want to cover the pot after adding the collards and uncover after the almond butter.
Adjust seasonings, if it's not as thick as you'd like, just boil longer. It does thicken as it sits, though. If you don't have teff, a) I'm sorry! b)no worries, it'll just be moister or c) add in a few tablespoons of flour as a thickener
Sprinkle with almonds, serve with brown rice, teff, or GF ingera.
Enjoy!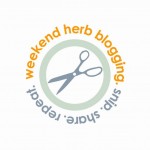 I'm serving up this soup for this edition of Weekend Herb Blogging, the brainchild of Kalyn's Kitchen. I'm so delighted to have a venue to share recipes and my love of gardening, too! The host this week is Coffee and Vanilla. Here's the roundup; there are a bunch of gorgeous looking dishes!

~from Cheryl's kitchen ©2008