Having friends for dinner is an excuse to get creative. Having friends that eat GF? Now, that's just a chance to play in the kitchen.
So, dinner was:
Adeena's rolls adapted to be gluten, dairy and egg free, with added Kalamata olives
Dipping sauce: olive oil with minced olives, fresh rosemary, oregano and thyme, pinenuts, and crushed red pepper
Broccoli with sauteed garlic and toasted pine nuts
GF brown rice pasta
Chicken "parm": chicken breaded in herbed crushed cassava crackers, baked in a sea of yummy tomato sauce. Parm for the dairy eaters and melted mozzarella, and fresh herbs from my garden for me.
Brazil nut chip cookies with 3 variations
And the kichen, not surprisingly, looks like a tornado hit. Methinks tomorrow is all about leftovers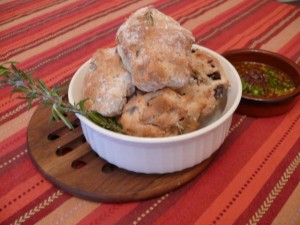 I spied Adeena's rolls a while back on Book of Yum, and they got good reviews. I subbed flax eggs and some egg replacer for the egg, used almond milk, and subbed amaranth for the teff for a 'wheatier' taste. We did them rosemary, thyme, and cracked sea salt. Some had added in chopped kalamata olives for variety. And those rolls are FORGIVING!! My cuisinart stopped working in the middle and I had to do half by hand and they were STILL good. Rolls you can't mess up…priceless.
And the best part is dessert, of course.
Brazil nuts and chocolate are heavenly together, and I've always been a brazil nut fan. I made brazil nut butter a few weeks back, and it was in the refrigerator, calling loudly to me. Not that I wasn't sneaking spoonfuls every now and again, but I hadn't figured out what I wanted creative venture it was destined for. We were having friends to dinner, and so I needed to find something that met my dietary needs AND avoided chocolate, as DH is avoiding caffeine. So it seemed easy enough to do some cookies with chocolate, some without.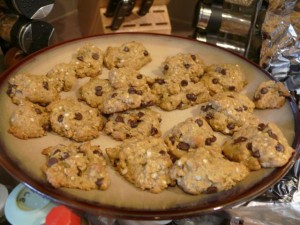 The cookies were sweeter than I anticipated, even though I was the only one who thought so. And the brazil nut flavor wasn't as pronounced as I'd expect. But they're yummy treats, and largely whole grain, so that counts as delicious and nutritious. For one of the variations, I used chunks of UNSWEETENED (baking) chocolate, which paired well with the sweetness. The 3 variations were unsweetened chocolate chunks for me, Enjoy life chips for the other chocolate eaters, and heath bar toffee pieces to keep my caffeine avoiding DH from pouting too much. It's no fun watching someone else eat when it looks like they're getting something better than you, so I didn't want him to feel left out.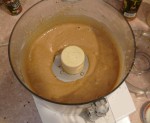 But where, oh where, do you get brazil nut butter? Well, your food processor, of course! Buy toasted nuts or toast your own , and put them in the food processor until smooth. It takes about 6-10 minutes to process, depending on your food processor, and do scrape down the sides periodically. It's that simple. Or, of course, you could use almond, hazelnut, peanut or butter, or even tahini. You could always do raw nut butters, too, and then you'd have to add a little oil for the grinding.
Brazil nut butter cookies, heavily modified from a recipe from the back of the quinoa flake box
1/2 cup honey* (I would use a little less next time)
1/4 cup sugar (I used turbino, next time I would use a finer grained sugar)
1/4 cup coconut oil
1/4 cup soft avocado. Yes, avocado.
1/2 cup brazil nut butter
3/4 cup quinoa flakes
1 teaspoon vanilla (optional)
1 teaspoon baking soda
1 cup GF flour (I used mostly teff, some sorghum, and a little sweet rice and coconut flours)
1/2 cup chocolate chips or chunks, nuts, or heath bar pieces
pinch of salt
*use agave if you are vegan
Preheat oven to 350.
Mix the honey, sugar, oil, avocado, brazil nut butter and vanilla until smooth. Combine flours and add flours to wet ingredients. Add in chips/chunks/nuts.
Drop walnut sized balls and flatten slighly onto cookie sheet, silpat mat, or parchment paper. Cook 12-15 minutes, allow to cool on a rack.
Enjoy, try not to eat too many.