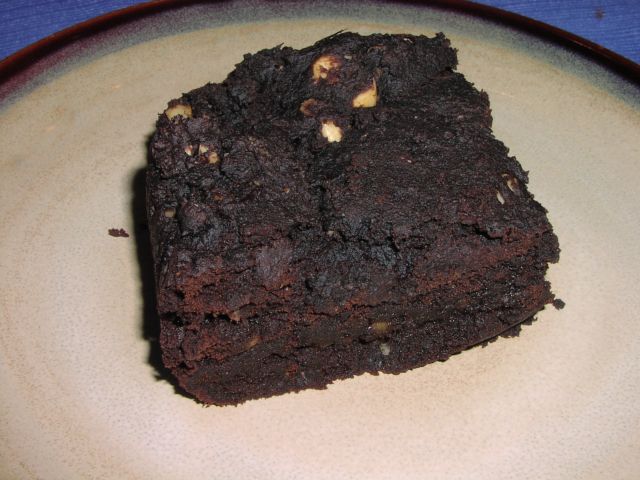 I've got a few names for these brownies: Mayan brownies, Brazil nut brownies, and (dare I say it?) Black bean brownies.  Are you still there?  Please don't run away!  I know the idea sounds wrong, but I can say, for sure, black bean brownies are really quite yummy.
I heard about black bean brownies years ago, in my pre-gf life, and never got around to trying them.  Then when Heidi posted them on 101 cookbooks and I kept seeing them in different places, like Diet Dessert and Dogs and Have Cake Will Travel.  I was intrigued, but there were so many eggs, and/or more sugar (or succant) than my body can handle.  So I adapted the general spirit, threw caution to the wind and hoped for the best.  It took a few tries.  I dabbled with a carob version, had one with coconut flour, etc. and finally, success!  Fudgy, yummy, moist and light brownies, which were promptly gobbled by a group of folks used to a "normal" diet.   And dare I say they're even healthy?  They're not low calorie (well, maybe compared to normal brownies!), but the ingredients are nutrient rich, with good-for-you fats, not empty calories.   I don't even feel guilty that I had one for breakfast.  In the interests of full disclosure, black bean brownies are tasty and very moist, but not over the top decadent.  So they're great for an every day treat, but not so much when you're craving a total chocolate/sugar bomb.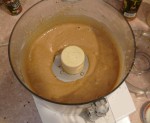 The magic ingredient (besides the beans, of course!) is the Brazil nut butter.  I've had a long term, enduring love affair with nut butter.  Peanuts and I parted ways years ago, and I truly missed sticky creamy goodness of peanut butter until I ventured out into the wild world of nut butter   It's great that you can get almond butter easily, but if you've never had hazelnut, pecan or brazil nut butter, baby…get your food processor and let's get cracking! I've been known to creep into the kitchen in the wee hours and eat it by the spoon.
Oh, and the Mayan part of the name?  That's a tribute to the beans, cinnamon, cayenne, Salba and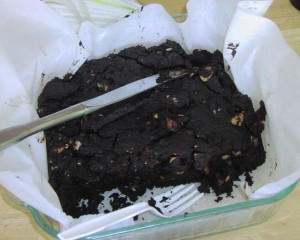 the mesquite, all common South of the border ingredients.  The cayenne adds a nice zing, and I've used anywhere from a pinch to 1/4 teaspoon.  Each level of heat is yummy, and is a matter of personal preference.  If you've never mixed chocolate and cayenne, do give it a go.
As an added bonus, your food processor does pretty much all the work, you only need one bowl, and they're vegan, gluten free, egg free, dairy free, corn free, soy free, sugar free, grain free and delicious.
Mayan brownies
1 can black beans, well washed (1 ¾ cup)
1 ½ cup of toasted brazil nuts, divided (or 2/3 cup chopped nuts and 6T nut butter de jour)
2 oz unsweetened baking chocolate
2 teaspoons whole salba or chia seeds
½ cup agave (or 1/4 cup agave, 1/4 cup honey)
generous 2/3 cup fresh or frozen cherries
2 Tablespoons carob powder
¼ cup plus 2 T cocoa powder
1 t mesquite (optional)
2 teaspoons baking soda
1 teaspoon baking powder
pinch- ¼ teaspoon cayenne
pinch of cinnamon
½ teaspoon salt
1.5 teaspoons almond extract
3 or 4 drops oil of orange (optional)
1/2 cup of chocolate chips (optional)
Line an 8X8 pan with parchment and set aside.  Preheat oven to 325.
Toast about 1.5 cups of brazil nuts for 10-15 min at 350.  Pulse in the processor to grind very coarsely, and reserve 3/4 cup of chopped brazils (somehow, by the point where I add them to the recipe, there's only 2/3 a cup left).  Grind the rest until they become nut butter, which takes a minute or two.  Scoop out and reserve.  Put chopped unsweetened chocolate in the processor, and grind until you've got fine pieces.  Add the rinsed beans, Salba, sweetener and cherries and let it run 3-4 minutes.  Add back the nut butter and everything except the reserved brazil nuts and chips (optional) and process until smooth.
Mix in brazil nut chunks into the batter.  (If you're feeling really lazy, you can mix within the processor bowl, but it's a tight squeeze.  Put the batter into a prepared pan and smooth out.  Bake 30 min at 325, then cover loosely with foil and continue to bake until a toothpick comes out clean, about 45-50 minutes.



This lovely brazil nut butter treat is a part of the Peanut Butter Boy's PB exhibition. It's not quite peanut butter, it's not quite a cake, but it's along those lines and hey, it's all in good fun. If I could try it with PB, I would, and I bet it would be awesome!
~from Cheryl's kitchen ©2008. Please do not replicate without crediting/permission.