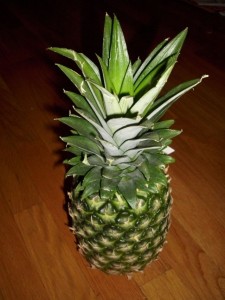 This week's theme is pineapple, and boy am I excited!  I do try to eat locally grown foods, but some things are too good to give up, and besides, that's hard during the winter months.  Perhaps that means I should move to somewhere like Hawaii and to get a year round pineapple fix.  In addition to being thoroughly yummy, pineapples are a great source of manganese, Vitamin C, and fiber.
I generally have pineapple plain, because really, can you get any better than fresh pineapple?  I do use them in baking, such as in these Carrot Muffin Cakes, and sometimes use it as a tenderizer for chicken, too.  I'd love to see how everyone else uses pineapple!
Monday:
Homemade chicken veggie soup
Tuesday:
Quinoa with arugula pesto
Weds:
Baked salmon and roasted peppers
Pineapple for dessert!
Thursday:
Garam Masala chicken with roasted cauliflower and papadams (or dal and papadams from the freezer if I'm feeling super lazy)
Friday:
Leftovers?
Baked good of the week:
to be honest, I haven't been feeling that well and so I haven't been doing much baking myself. DH has requested a cake, so who knows what will happen. A chocolate orange cake could be in the forecast.
Fun stuff:
Just an FYI, I'm hosting a healthy recipe contest, so if you're interested in submitting a recipe and winning some fun prizes, go on over and check it out! Due to the cost of shipping, winners must be in the US or Canada (sorry!)
Now, what about everyone else?
Book of Yum graces us with an international menu, of course, but with a twist from our very own back yards (more or less)…sweet potato biscuits. She's promised us a veganized version in the future, and I for one can't wait!
Fresh Ginger joins us with a local menu, as usual.  Her Moroccan chicken looks amazing, and mac and cheese…really, do you need to say more?
Asparagus Thin has a very cute Superbowl commercial on her page, and she teases us with mention of a breakfast pineapple curry, too.
Thrifty GF mom joins us through the cold and snow.  She's got a Kale Potato soup on the menu, and maple salmon, too.  Sounds healthy and delish, too!
Esther of Lilac Kitchen has been hit by the weather, too.  She shares her "best stir fry ever", which is quite a title to live up to!  And the pineapple upside down cake sounds worth trekking across the pond.
Sorry it took so long to get the posts up.  My internet was down much of the day.