I just couldn't wait to share these, they were so tasty!  They never last long around here. They are perfect for everyday snacking, with or without the glaze, and great for breakfast, too.
And did I mention that they are gluten free, casein free, soy free, vegan, egg free, corn free and sugar optional? If you go for raisins, they avoid all top 8 allergens.  I'm patting myself on the back as we speak. They are a good source of fiber and quite healthy
You do need to grate the carrots by hand with a small grater, this way they just disappear into the muffin.  You can add more spice if you like a stronger flavor, and I plan to put in pieces of crystallized ginger on my next time around for my husband and I. This version is more little person friendly..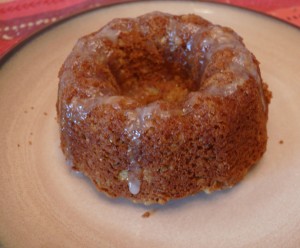 The Salba seeds (or you can use chia seeds) are what hold these babies together. Salba can be ordered online, and chia is sold at many Latino markets. I've been using it a lot lately because it's a great source of omegas and an even better binder than flax.
Ingredients
1 can crushed pineapple (divided into crushed pineapple and juice, we'll be using most of it)
4 teaspoons whole Salba seeds
1 cup brown rice flour
1/2 cup sorghum flour (or teff flour)
½ cup arrowroot starch
2 teaspoon baking soda
4 teaspoons baking powder
1/2 teaspoon salt
½ teaspoon each ginger and allspice
1 teaspoon cinnamon
1/4 teaspoon nutmeg
(or substitute all 2 teaspoons pumpkin pie spice for all of the spices)
2 tablespoons oil
1/2 cup agave nectar
2 T molasses (or 2 more T agave nectar)
½ cup crushed pineapple, drained (from the same can as the above)
½ cup packed finely grated carrots (approx 5 small carrots, but go by the 1/2 cup measure)
2/3-1 cup nuts: brazil nuts, macadamias, or walnuts work well. Or use a combination of nuts, raisins, and/or chopped crystallized ginger for people who enjoy a little kick.
Glaze:
3 Tablespoons powdered sugar (check corn free status) OR you can "powder" maple sugar or succant in a blender
1/2 -1 teaspoon pineapple juice, or orange juice (from the same pineapple can)
Preheat oven to 350º. Put muffin cups into muffin tin or grease tins, or grease baby bundt pans.
Drain ½ cup of pineapple juice into a small bowl and add the Salba seeds to the juice. Set aside for 20 minutes. Reserve crushed pineapple.
Combine dry ingredients, leaveners and spices and mix thoroughly. Chop nuts and add to dry ingredients. Grate carrots finely. Combine agave, molasses, oil thoroughly, then add carrots, ½ cup of crushed pineapple and Salba gel.
Mix wet and dry until just incorporated. Pour into muffin tins or baby bundt pans until they are 2/3 of the way full.
Bake for 8-10 minutes or until browned on top. Cool on wire rack and turn out after 5 minutes.
Make glaze: Add juice to powdered sugar, ½ teaspoon at a time until it is a pourable consistency. Glaze while muffins are warm, but not just out of the oven. A little goes a long way.
Makes 12 standard size muffins and 3 baby bundt cakes or 18 standard size muffins.
~from Cheryl's kitchen ©2008