Last week was a crazy week of baking. Between vegan birthday brownies for a good friend and a 3-layer chocolate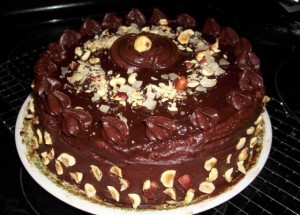 hazelnut birthday cake for DH (more posts on the cake to come!), hazelnut heath meringues and peach crumble, and testing a scrumptious recipe for Sally, the kitchen was a never ending pile of dishes covered in chocolate. But at least the house smelled divine.
This week's menu plan host is Manda of Asparagus Thin. She's selected grapes as her menu item of the week. I tested allergic to grapes years ago and haven't eaten them since, and so there's a devil currently perched on my shoulder, saying, hey you, grapes are in season now! If you're going to try them, now would be a great time… and yet, I think it'll have to wait for now. Especially since I have such a busy week planned, and am headed to the mountains to unwind this weekend.
I also don't have a host lined up for next week, and I'll be out of town, so this is your turn to step up!!!
Monday:
Pesto slathered Mahi and grilled peppers
Tues:
Herbed turkey with sauteed onions
Weds:
Chicken in tomato sauce with broccoli
Thursday:
Lemony mint quinoa with fresh tomatoes
Friday:
away, so who knows, really
Baked good(s):
maybe a nectarine ginger crumble–it's so hard to resist when they're in season
From my garden:
herbs! basil, oregano, thyme, mint
tomatoes
peppers
garlic (harvested a while back)
parsley
From the Farmers' market:
kale
onions
blackberries
raspberries
peaches
nectarines
apples