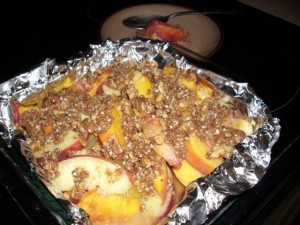 It's that season, and what a great way to celebrate!
We threw together this super easy vegan treat in minutes, and gobbled it right up. I'm sure this would work with any berries or fruit. I love to use mesquite in the topping, because it hides the flavor of quinoa and gives a nice flavor. If you can't find any, use any other kind of GF flour and just add in some vanilla extract or extra cinnamon to balance the flavors a little better
Peach Crumble
6 large peaches, nectarines, plums, etc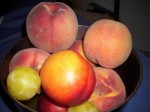 2 Tablespoons arrowroot starch
3 Tablespoons agave nectar (to taste)
1/2 teaspoon cinnamon or cardamom
Crumble topping:
1/2 cup quinoa flakes (or GF oats)
2 Tablespoons mesquite
2 Tablespoons agave nectar
1/4 cup chopped walnuts
2 Tablespoons oil
Grease an 8X8 pyrex pan or line with parchment or aluminum foil.
Cut peaches into slices and toss with arrowroot, agave and spices.
Mix together crumble topping and scatter chunks evenly on top. Bake at 350 for 25-30 minutes or until the peaches are softened and the edges of the crumble are browning.