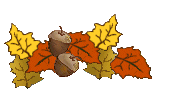 Since Thanksgiving is just around the corner, I thought it was a great opportunity for people to post about their favorites, and if you want to add your favorite recipes to the comments, that would be great!
I had a fun week of non-baking yummies, including chestnut balls and hazelnut butter cups. I wrote down the recipe for carob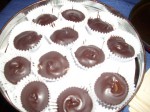 balls, but alas, I can't find it with all of the remodeling mess and chaos. Bummer–and I will keep looking (or use it as an excuse to make them again and experiment)
I love fall foods–apples, cranberries, chestnuts=yum!!! Some of my favorites are
apple crisp (just this recipe with apples instead of peaches) or this one< br />
Cranberry fruit relish
Butternut squash bisque
Sweet potato pie
Hot mulled cider
Monday:
Grilled salmon and herby peppers
Tues:
Turkey in a coconut garam masala sauce with roasted cauliflower
Weds:
Uh…dunno. leftovers?
Thursday:
Turkey, celery in chestnut sauce, cranberry fruit relish and apple crisp
Friday:
Turkey stock! I love stock.
Baked goods:
apple crisp
Y tu?
Kim of Gluten Free For life is hosting Thanksgiving, and boy is she going all out. Everything from the turkey to pecan pie. I haven't made brown rice 'couscous' but I've meant to so I hope she posts more!
Heather at Celiac Family joins us with a great T day plan, too. She's taking it easy early in the week, but pulling out all stops for my favorite part–dessert! She's got a nice list of recipes, from appetizers onward.
Deb at Green V neck is feeling overwhelmed/burnt out (I hear her!) but I love the idea of Indian Cabbage. She's off to relatives to celebrate, AND there's someone else GF, which is quite the bonus!